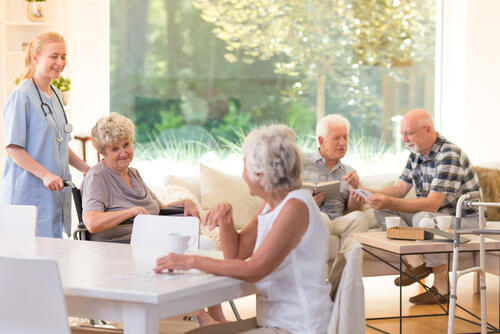 Assisted Living vs. Memory Care- Differences and Similarities.
Friday, April 16, 2021
Old age is inevitable. There will come a time when your parents need an intensive level of care. At that time, you have a lot of options. You can either choose to care for them at home or you can send them to a special facility. 
For seniors who suffer from memory issues such as dementia and Alzheimer's the choice can be tricky. You may have to look into the options of memory care facilities versus assisted living.
Because the choice can be tough, in this post we look at how these two facilities differ from one another and what all similarities they share. In this way, you can make a more informed decision. Let's start with discussing assisted living first. 
Benefits Of Assisted Living
If you're looking for a secure place run by licensed professionals that take care of the daily assistance requirements, then nearby assisted living communities are an option for you. You can think of it as an independent living option but with specialized care available. These communities offer everything from events, regular staff check-ups, and daily activities.
Possibly the biggest benefit of this facility is that the activities are customized as per the unique wants, needs, and capabilities of the residents. 
There are trained experts employed in these settings who know how to administer medication all the while coordinating with the health care providers for the residents.
Benefits Of Memory Care
Just like assisted living, memory care is also run by licensed professionals. This is another highly secure community. So, what's the difference? Well, memory care is designed solely for elders who have some kind of memory impairment and provide dementia care and Alzheimer's disease care.
A memory care facility usually has everything that assisted living has to offer with the addition of trained memory care experts available to look after them. All the programs and events are created so that residents can live as comfortably and independently as possible while also receiving the highest level of care for memory issues.
What is the Difference Between Assisted Living and Memory Care?
Activities and Therapies
Both assisted living and memory care facilities will offer some kind of entertainment activities such as music therapy. You would be surprised to know that music therapy can help dementia by stimulating various parts of the brain that control cognition and memory. 
But, while in an assisted living the focus is mainly on entertaining the patients, in memory care - music therapy is tailored specifically to meet the cognitive needs of the patients. 
Dementia patients are prone to challenging behaviors such as sudden outbursts of anger and rage. By placing them in an involved environment where their mental health is taken care of, memory care helps to manage these behaviors healthily.
Staff Training
Both assisted living and memory care units are similar when you talk about the staff. Both have trained nursing assistants and other health care professionals. However, in the case of the latter - staff is made to undergo a special form of training that allows them to deal with Dementia patients and others who are dealing with dementia. 
They know how to handle residents dealing with anxiety and other issues such as those with swallowing difficulties.
Every single staff member at memory care communities must go through continuing education (as required by the state) so they know proper strategies to deal with distressing situations and difficult patients. 
Therefore, if your senior shows challenging behaviors such as anxiety, worry, anger, or rage and if you are having a hard time supporting them at home, then memory care is possibly the better option out of two.
Fine Dining
Both assisted living and memory care communities will offer you 3 square meals a day. Both of them will have proper dining arrangements. But, the latter focuses on providing an environment that allows residents to eat with dignity and independence. 
Also, since memory issues can complicate nutrition - memory care facilities will often have special diets to make sure residents can get enough calories and nutrition that best meets their health requirements.
Patients often get multiple food choices, especially so in luxury assisted living communities, so they can pick and choose their preferred diet in an environment that is supportive with proper utensils. There are also fewer distractions so residents can dine peacefully.
Specialized Environment
The environment of memory care units is designed taking into consideration safety concerns of dementia sufferers as they often suffer from judgment and memory issues. For example, dementia tends to alter all 5 senses and not just cognition and memory. 
Therefore, these communities will have those added features such as door alarms, one-touch sinks, motion sensor lights, easy doorknobs, large hallways for easy navigation, etc. These extra touches are missing in a typical assisted living facility. 
When it comes to ensuring the safety, dignity, and independence of dementia suffers - nothing can beat memory care homes.
Similarities Between Assisted Living and Memory Care?
Despite all the differences, both memory care units and assisted living have a ton of similarities. Here's a comprehensive list of things you can expect from the two -
Security and round-the-clock supervision by trained staff
Medical care available
Transportation services
3 meals a day
Chef-prepared meals
Fitness programs
Daily activities
Housekeeping services
When Should I Move from Assisted Living to Memory Care?
If your elderly needs only a little care and are largely able to look after themselves, then an assisted living facility will do just fine. They may feel too restricted at memory care. 
However, if you feel that they struggle with daily activities, show problematic behaviors, have trouble staying alone at home, and need support all the time - then a place with intensive care such as a memory care unit might be better for them.
It doesn't matter which one you pick; be sure to select a facility that can best support your senior.