Pharmacy Information for Seniors
Pharmacies are designed to help people get the most positive results from their medications. At the pharmacy your drugs are prepped and dispensed to ensure the correct dosage, prevent interactions and connect with patients regarding safe use of what they have been prescribed. A relationship with a pharmacy can be a great asset to seniors and their families. Seniors living in assisted living communities or in their own homes need a relationship with a good pharmacy. Pharmacies for seniors should be flexible and helpful to each situation.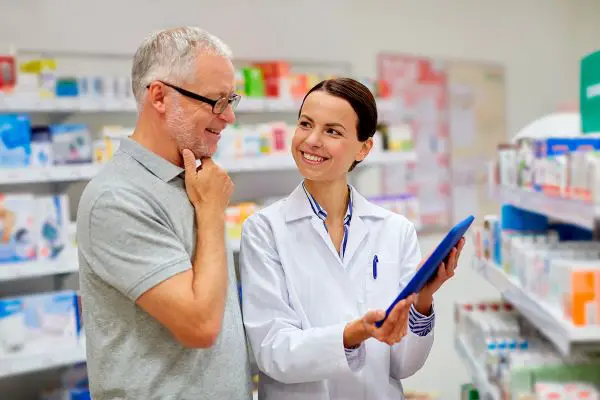 Pharmacists promote health, work with patients and doctors using their medication expertise. They also manage pharmacy systems to ensure smooth operations.
What is a Pharmacist? 
As of 2004 pharmacists are required to have a doctor of pharmacy degree. You must have this degree to take the NABP exam. You must pass this exam to dispense medications and work as a pharmacist in the US. Pharmacists offer their expertise and dispense prescription drug medications. They also can conduct health screenings, immunize patients and supervise medications given to patients. They can also provide information regarding how to store medication and the correct way to use medication that has been dispensed to you.
How Can a Pharmacy Help Me?
Pharmacists are credible advisors; they promote safe use of medication. We rely on prescriptions to manage our health. Pharmacists collaborate with patients to ensure you take your medication properly, avoid interactions and warn against side effects. They also provide great over-the-counter medical advice for things such as aches, stomach upset, cough, colds and flus.
Should I Use One Pharmacy for All My Medication Needs?
It always helps to have one comprehensive record of your medications in one location. You would not want mistakes to happen, such as drug interactions.
There are different types of pharmacy's below are some common definitions of pharmaceutical types:
Community Pharmacy
This is a retail style pharmacy. This is your typical neighborhood pharmacy whether it be a big box store type or a locally owned location. This is the most common type of pharmacy.
Online Pharmacy 
These are mail order and local delivery style pharmacies. Growing in popularity they provide outstanding service for seniors and their families who may not be able to leave their homes safely. They provide all the benefits of a community pharmacy and in some cases even more. They not only work with consumers in a home setting, they work with assisted living communities, hospitals and nursing homes. Such convenience for living in this modern world. With things that can affect seniors like colds, flus and viruses such as Covid-19 in can be invaluable to use an online service.
Hospital Pharmacy
This is where the management of medication occurs in a nursing home, clinic or hospital setting.
Clinical Pharmacy
Some hospitals and nursing homes have clinical pharmacies to issue and oversee medication of patients.
Ambulatory Pharmacy
This is to assist geriatric patients in rural type settings. This is a mobile service.
Home Care Pharmacy
Also known as infusion pharmacy. This type of pharmacy is for injectable medication only. This is mainly used for critical patients in a home setting.
These days pharmacies provide new services such as online/telehealth communication, home deliver and can assist with finding the best prices for you. Pharmacists are invaluable to the local community. They offer much needed services and support to overall health. They play a key role in health advice, dispensing medication and services for a healthy lifestyle.
Pharmacists work with doctors, patients and healthcare professionals to ensure positive health outcomes. Building a relationship with your pharmacist can not only provide you with peace of mind it helps build confidence in your medication needs. There may come a time when you need good communication with your pharmacist regarding new medication, discounted medication or questions about a new prescription. You want your pharmacy to be there for you.
Seven common questions for a pharmacist: 
Can you help me pronounce the name of this medication?
How do I use this medication?
What if I miss a dose of my medication?
What are the possible side effects of this medication?
How do I store this medication?
What does this medication do?
Is there a substitute for this medication?
Many pharmacists will go the extra mile for their patients. They want you to be able to communicate with them and ask any questions, even the embarrassing ones. There is always updated technology in the pharmaceutical world and they want you to take part in it. Many people no longer want to wait in long lines nor do they want to deal with many people in a close setinng.
The following conveniences can be available to meet your changing needs:
Prescription Syncing to pick up your medications at one time
One-on-one personal counseling
Easy to open packaging
Financial help with coupons or manufacturer assistance
Online services using computer or phone
Telehealth communication using video conferencing
Pharmacies want to build a relationship with you. They depend on your services for their success. Increasingly people want more convenience, and personalized service. Whether your pharmacy is online or local the goal is the same - provide outstanding healthcare and medication information in a safe and effective manner.