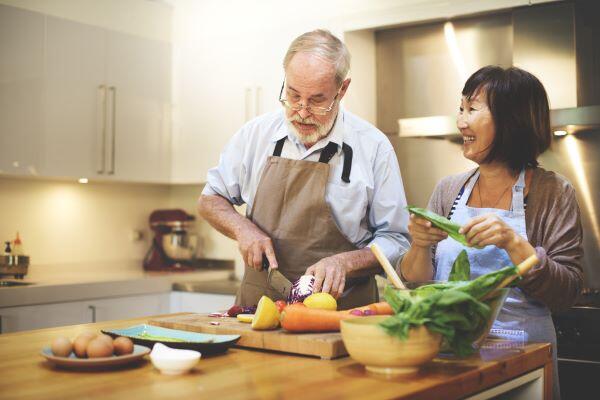 Eating Healthy: Top 6 Meal Delivery Kits for Seniors
Wednesday, February 17, 2021
It is important to have good nutrition at all ages, but even more so in our later years. Coming up with ideas for meals for seniors and caregivers may become more difficult or you may not be much of a cook. Senior meal delivery subscription boxes give you a variety of healthy meals to choose from weekly and give you easy to follow recipes so those who have never cooked before can make a full meal. For those who aren't interested in preparing the meal themselves, some subscription boxes will ship your choice of already prepared foods that just need to be heated up. Cooking can be an exciting and fun activity to participate in.
How can Seniors get Food Delivered?
Check out the best meal kits for seniors below and give them a try. You can stop the subscription at any time if you decide you don't like it.
What is the Best Premade Meal Delivery Service?
1. Silver Cuisine 
Premade Food Specifically for Seniors
Silver Cuisine is the best meal delivery service for seniors. Its flexible and convenient premade meals for seniors service that delivers fully prepared meals that require no preparation. They have a menu of over 150 alternating meals and snacks. This requires no contract and no minimum orders. Ordering is easy, all you have to do is choose which meals you want and Silver Cuisine will shop, prepare, cook, and deliver the food to you. Their meals are doctor approved and prepared by a chef. They offer several different specialty diet menus, including heart healthy meal kits , Gluten Free, Low Sodium and Diabetic Diets. All Silver Cuisine meals can be placed in the freezer and last up to one year. Meals range from $5.99 to $19.99 and shipping costs $19.95. If you spend $99+ you can qualify for free shipping. The meals for seniors will ship in insulated coolers packed with dry ice. 
AARP members get 10% off and free shipping on their first box, click here.
2. Top Chef Meals
Prepared Meals for all Diets
Top Chef Meals has a meal selection for seniors because they know how important healthy eating is as you age. They offer meals for all kinds of diets including renal health, high cholesterol, gluten free allergies, high blood pressure, diabetes, heart health, low carb diets, and no sodium diets. There is no subscription required to order meals and all seniors over 60 years old get 10% off of their meals. The offer entrees for lunch and dinner, breakfast, soups, shakes and desserts. Entrees start at $8.95 per serving and each meal includes your choice of entree, starch, and vegetable. All meals are cooked fresh, flash frozen, and delivered to your door. Once you receive your meals you can put the ones you'll eat first in the fridge and put the rest in the freezer. Then, simply follow the reheating cooking times and you're ready to eat! Top Chef is a best meal delivery service for seniors.
Is HelloFresh Cheaper Than Grocery Shopping?
3. HelloFresh
Most Popular
HelloFresh is probably the most well known meal subscription service. This meal delivery subscription service allows you to skip meal planning and grocery shopping. HelloFresh delivers step-by-step recipes and fresh, pre-portioned ingredients right to your door. First, you set your meal plan preferences with options for carnivores, vegetarians, calorie-counters and more. Each week you can choose from 22+ delicious recipes that are put together by their chefs. You will receive easy to follow recipes along with all the food needed for each meal. You can skip a week or cancel anytime if your needs change. Meals start at $7.49 per serving which averages out to about $53.94 per week for 3 meals for 2 people. Shipping is $8.99 per delivery. HelloFresh delivers the perfect amount of ingredients, everything you need for dinner, nothing else — resulting in less food waste and saving money on buying food.
For $80 and free shipping on your first box, click here.
Which Meal Kit Delivery Service is Cheapest?
4. EveryPlate
Least Expensive Subscription
EveryPlate is the least expensive meal delivery service with meals starting at $4.99 per meal and a shipping fee of $8.99 per week. You will get to choose from 15+ meal options each week and can pause, skip, or cancel at any time. If you only need meals for one, order the meal for two subscription box and you will have enough food for lunch and dinner.
5. Blue Apron
More Than Just Food
BlueApron is a fresh ingredient and recipe delivery service that helps chefs of all levels cook incredible meals at home. They take care of the menu planning and shopping (providing you with fresh, locally sourced ingredients in pre-measured quantities), so all you have to do is cook and enjoy. You can pause, skip, order extra meals, or cancel at any time. Their meals start at $9.99 per serving and shipping costs $7.99 per week. Their meal options include their "Signature Box" which is mixture of meat, fish and veggies, "Vegetarian Box" and "Wellness Box" which provides balanced, nutritionist-approved recipes designed for your holistic health, including carb-conscious and WW™ Approved options. Blue Apron also offers a wine subscription box for an additional fee.
New customers get $60 off of their first 3 boxes, click here.
6. Green Chef 
Health and Earth Friendly
Green Chef delivers premium ingredients and easy recipes to cook delicious dinners in about 30 minutes. Each box includes new recipes from the meal plan of your choice. Green Chef takes pride in being the #1 Sustainable Meal Kit. Their commitment is to minimize environmental impact while creating a delicious home-cooked meal. Their meals produce less food waste than traditional grocery store meals, and they make sure more ocean-bound plastic is recycled than is in your box. Green Chef offers specific diet based boxes including Paleo, Keto, Vegetarian, and Vegan. Their meals start at $5.99 per serving with shipping costing $8.99 each week. Similar to other subscription boxes you can pause, skip or cancel your subscription at any time. 
For $80 and free shipping, click here.
Are Home Delivery Meals Worth it?
There are many meal subscription kits out there to fit the needs of everyone. You can try out a couple of different subscriptions and see which one fits best with your meal preferences and tastes. These kits offer a convenient way of receiving all of your ingredients delivered to your door each week. If you're not used to cooking, why not try something new and follow these easy to follow recipes to see if cooking might be a new hobby for you.