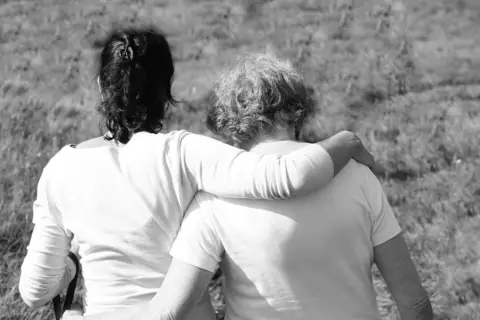 Set Yourself Up for Caregiving Success with Balanced Self-Care
Friday, November 15, 2019 - 10:54
⌘ A guest post by Lydia Chan

of

Alzheimer's Caregiver
Caregiving is a challenging undertaking in all ways, and without a good plan in place, you are likely to end up drained and burned out by the responsibilities involved. If you're a new caregiver, set yourself and your loved one up for success right from the start. The best strategy is to be mindful of your own needs, embracing a self-care plan to maintain your physical and mental wellness.
Cover your basics
You're probably familiar with the expression, "You can't pour from an empty cup." In order to be effective in your role, develop a self-care regimen to maintain your health and vitality. Part of your basic regimen should include exercise. Even short sessions can make a difference, so look for easy ways to add physical activity to your days. Walk farther when you run errands, go swimming at the gym, or put together a few pieces of exercise equipment for at home. Medicare.org points out there are some terrific tech-oriented indoor fitness options these days as well. For instance, Wii games can be played in your own living room, and there are ample workout videos on YouTube to exercise to whenever you have a few minutes of downtime. And for variety, consider putting some fitness apps on your phone. By making exercise convenient, it's easier to find the time.
Fuel for your mind and body
Proper nutrition is a cornerstone of energy, outlook, and general wellness. Ensure you embrace a healthful, balanced diet so you can keep feeling and performing your best. Make sure your meals include plenty of whole grains, vegetables, fruits, dairy products, healthy fats, and lean proteins. Variety is important to ensure you get all the vitamins and minerals your mind and body need. If getting to the store is an issue, consider a grocery delivery service in your neighborhood. And to make meal preparation easy and efficient, Eating Well suggests preparing healthy make-ahead meals. You can plan out your week in advance, do your shopping online, and have the meal components delivered straight to your home. It's a far healthier choice than most fast-food selections and still quick, inexpensive, and convenient.
Stay supported and connected
For many caregivers, the first thing to go is a social life. However, staying in touch with family and friends is part of your personal support network and should be considered a component in your self-care plan. It's far too easy to become isolated, lonely, and worn out, so make sure you tend to your social life, and at least sometimes do so face-to-face, rather than entirely through social media. Get lunch with a friend once a week, take a class, or go for walks with your neighbor. Consider joining a hobby club, and if you're involved with a faith organization, make sure you connect with other members. Arrange for regular respite when you can, whether through trading with other caregivers, volunteer programs, family members, or hired assistance.
Understanding self-care
Many people misunderstand self-care, thinking it's either things they do on special occasions to feel good, or that it's something selfish in nature. Especially as a caregiver, it's important to understand self-care is not selfish at all, and in fact, it's crucial for maintaining your well-being. Self-care needs to be a conscious, routine effort on your part. Without a plan in place, you risk suffering from caregiver burnout, and when that happens, both you and your loved one suffer. As time goes by, if you notice any of the signs of burnout, such as feeling increasingly irritable, skipping on aspects of your loved one's care, or beginning to struggle with anxiety, insomnia, or depression, evaluate how you are doing with your self-care plan and adjust it to meet your needs.
Attention to your overall wellness is part of a balanced self-care program. To be effective as a caregiver, you need to maintain your health and energy. Ensure that exercising, eating right, and staying in touch with your support network are part of your ongoing priorities.