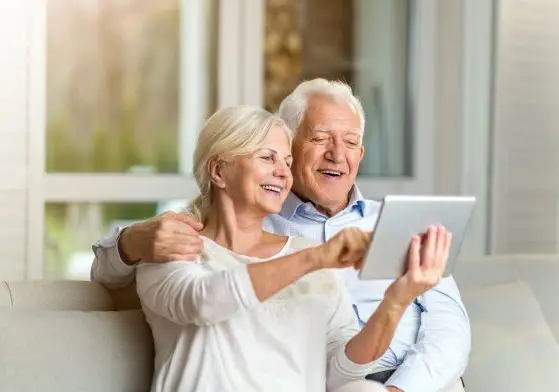 Tips for Virtually Touring Senior Living Facilities
Monday, April 5, 2021
Touring a senior living facility is a "must-do" before choosing the right community to move into. Ideally, you and your family would want to tour different locations in person, but that may not always work out for multiple reasons. A big reason this may not be doable is because of the current Covid-19 pandemic across the states. With in person restrictions put in place by senior living facilities and individuals that may be concerned about their health it can be difficult to get to these locations in person.
Virtual tours are becoming increasingly popular as an option for most communities.
Another reason you may not be able to tour these facilities could be that you're making a big move across the country and it's not possible to travel out for a short amount of time. Finally, medical and physical difficulties may be preventing you from being able to tour the facilities in person. Thankfully, we live in the age of technology which makes it possible to tour multiple senior living facilities without having to leave your couch. Virtual tours are becoming increasingly popular as an option for most communities. Keep reading to learn some tips when taking virtual tours of senior living facilities.
Do Online Research First
The first step when starting your journey towards finding the perfect senior living facility is to do your research. The fastest and easiest way to do this is to search online. Look at the facilities' website and dive deep into all of the pages on there. Look through all of their pictures, read about their amenities included, and read through their blog posts. After you read through their personal website, look around the internet some more. Read their reviews on Google, Facebook, and other pages such as ours. This will offer objective insight from previous and current families of residents. If everything still looks and sounds good to you, then move onto the next step.
Call and Schedule the Virtual Tour 
Many communities are offering to schedule virtual tours. This is done differently depending on each facility. Some facilities may have their virtual tours already on their websites that offer a 3D look that lets you interactively "walk" virtually through the rooms. If you or someone you know how a virtual reality headset, you may be able to use that to view the tour and you'll feel like you're really there! Other options that are available may be zoom or skype calls. During these calls an employee will take you on a (video) tour throughout the whole facility including bedrooms, community rooms, the outdoor grounds, and any other amenities they have on site. This will allow you to get a live look at what is going on in the facility. Try to take notes of what you see, does it look clean? Can you see other residents? Do they look happy? If you have other family members taking the virtual tour with you have them look in the background while you look at the facility itself. 
Include Multiple Family Members
Speaking of family members, it's important to have family and friends with you when you're taking the virtual tours. It is going to be a lot to view and information to take in, so when you have other people viewing the tour with you they may see something that you missed. Family and friends may also come up with some questions or ideas about something they see that you may not have considered. It's important to think of everything you can when viewing the virtual tour so you can make sure it's a good fit because it could become your new home.
Come up with a List of Questions
As mentioned earlier, it can be overwhelming at first when doing a virtual tour because there is so much information you want to know. Whether you're viewing a 3D tour on the website, watching pre-recorded tour videos, or doing a live video walk-through it's very important to take notes and come up with a list of questions you want to ask. After viewing, sit around together and think of things you may want to know more about that wasn't covered during the tour. Here's a list of questions you might want to ask:
How many staff members care for each resident?
What type of training and background check is required for your staff?
Are staff trained to care for residents with memory loss or Alzheimer's?
Are there staff on site 24/7?
Do you have nurses on staff? Who administers medications?
What is the cost?
What amenities are included with the price?
What type of security and safety measures do you have?
Are assessments done on residents prior to moving in?
What types of apartments are available?
Is there a waitlist? How long?
What is your visitor policy?
Is transportation included? For doctors appointments? For community trips?
What kind of activities do you provide? How often are they available?
Are there additional fees for other services or activities? What services/activities have additional fees?
How many meals are provided? Is it prepared daily? Are there set times to eat meals?
Do you offer hospice or end of life care?
Ask to Connect with a Current Resident 
If you're comfortable with it, and still want to know more you might ask one of the employees if they can put you in contact with a current resident. Emailing or talking on the phone with someone (or their family members) that currently lives there can give you a real personal insight on what day to day life is like at that specific facility. You might also want to come up with another list of questions to specifically ask the resident. Here are some examples:
What do you like about living here?
What don't you like about living here?
What are some of your favorite activities to do that are provided?
How is the food?
How long have you lived there?
Have you ever lived at another senior living facility? If yes, why did you move out of there?
Do you like the staff?
What Next?
If you've done all of the above tips and still feel like you need more information to feel comfortable about this big decision, request an in person tour. Although there have been many restrictions put into place because of the pandemic, you still may be able to tour facilities in person. Many communities websites have their Covid-19 policies listed on the front page, which should answer your questions about visiting, but if it doesn't, call the facility and speak to someone directly about how you can get in to tour. If you want to see a comprehensive list of senior living facilities check out our Find Communities page to find one near you.