What Level of Care Do I Need?
Monday, January 4, 2021
Level of Care Selection Tool - Begin
Did you know that more than 70 million Americans over the age of 50 suffer from a chronic medical condition?
The good news is that assisted living can help manage the struggle.
Assisted living is a spectrum of long-term services that can provide medical and personal care. These services include a wide range of options that depend on the level of care you need. At some point, most people could use some level of assisted living help.
The services offered by assisted living facilities vary from facility to facility. Some of these services tend to include providing meals, monitoring medication, help with housekeeping, and organizing time for social activities and creative hobbies.
Assisted Living
Assisted living help is constantly evolving to improve the lives of senior communities. Some assisted living communities are equipped to offer a continuum of care. This empowers residents to adjust their services as their own needs change over time.
Assisted living is beneficial for seniors on many levels. Some of these benefits include:
more free time
easy transportation
compassionate care 24/7
healthy, delicious meals
fun social activities
Residents in assisted living communities often need help with common daily activities like bathing, dressing, laundry, meal preparation, and taking medication. Trained professionals are available for members of assisted living communities to provide these services with grace and compassion.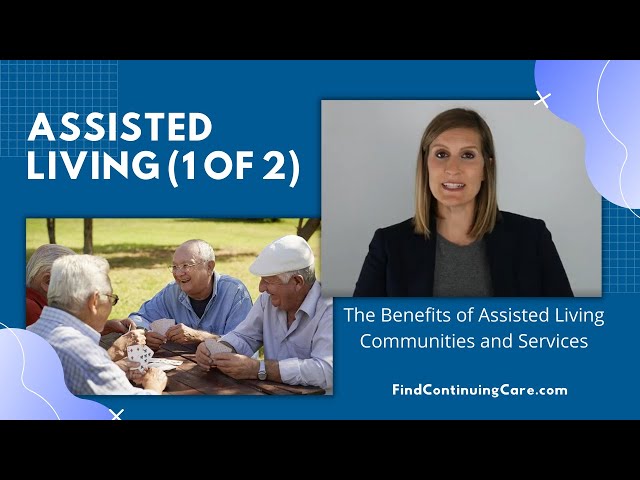 Levels of Care
How do you know if you need assisted living help? And what level of care you need?
When considering assisted living, these are some of the first questions that come to mind. It's always a good idea to consult with your doctors and loved ones to get some insight before making your decision.
Some signs that you may need assisted living help can include:
social isolation
poor hygiene
stress
escalating care needs
wandering
persistent memory trouble
There are some wonderful tools available to help you determine the level of care you need. By providing some basic information and answering a few questions about your health, you can receive some guidance about the type of community that would best suit your needs.
Independent Living
Independent living facilities are designed for older members of the community who are self-sufficient but don't want to deal with the maintenance of homeownership. They can be a good option for people who don't have any health complications that require medication management or constant care.
Sometimes independent living communities are referred to as active adult communities, 55+ communities, and retirement communities.
Independent living communities offer a way for older members of the community to slowly transition into an easier lifestyle. They usually provide lawncare maintenance, residential maintenance services, and communal leisure spaces. Some elders may hire in-home care at independent living facilities for an additional cost.
All senior living facilities should provide an assessment to determine if potential residents are a good fit for their community. A resident's needs should not exceed the facility's capacity to assist them.
There are some major differences between independent living and assisted living communities. One key difference is the amount of assistance provided with the activities of daily living (ADLs). In general, independent living communities do not offer medical care or help with ADLs.
Another difference is the level of healthcare services available on site.
CCRC
Continuing care retirement communities, also known as CCRCs, are for older members of the community who want to stay in the same place as they age.
At continuing care retirement communities, elders may start out in an apartment at an independent living facility and gradually transition into levels of assisted living over time, all at the same community.
One major benefit of this model is that every service needed is provided at the same place. Another considerable advantage is the fact that residents don't have to bother searching for different facilities or plan a major move.
Additional Care
Additional care can include personal care, specialized support, nursing services, and home health aides.
In general, home health aides visit only when medically necessary, whereas nursing services are more comprehensive and spend more time tending to their patients. Sometimes older residents who live independently may seek additional care to assist them as their needs increase.
Nursing Care
Nursing care is a service available to elders whose need for care and treatment requires the expertise of licensed nurses. Nursing care is typically offered in hospitals, assisted living communities, and continuing care retirement communities.
Nursing care offers a wide range of services, including:
physical therapy
occupational therapy
speech therapy
wound care
IV therapy
injections
monitoring of vital signs
Nursing care can be a good option for members of the elder community with health complications that require ongoing specialized attention from medical professionals.
Assisted Living Help
At some point, most people will require some assisted living help.
Reaching out when you need some level of care can ensure that you maintain a safe and comfortable lifestyle. Remember to consult with your doctors and loved ones to help determine what level of care you require.
Key Qualities
Once you determine the level of care you need, keep in mind some key qualities you're looking for in the facility of your choice.
Ask to look at the recreational schedule and decide if the activities interest you and if they're frequent enough for the lifestyle you want. Get a solid understanding of the medical care services provided, if the state of your health requires them.
Try to evaluate their policies and see if they cater to your lifestyle. Some facilities have policies against pet ownership, gardening, and other family members moving in. Exploring these policies beforehand can help you find the best match.
Take Action
Everyone requires some more help with age.  The good news is that finding assisted living help doesn't have to be a struggle.
Getting some assistance can open up more freedom for you to savor every moment of this new chapter in your life. Enjoy your golden years experiencing the care and comfort you deserve.
Use our handy search tool to find senior living options near you. If you found any of these tips useful, feel free to explore the rest of our site for more information and resources.