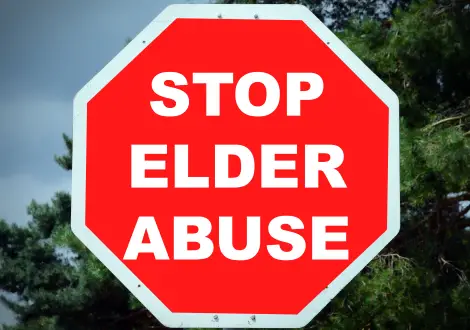 World Elder Abuse Awareness Day is June 15th
Tuesday, June 15, 2021
June 15th is World Elder Abuse Awareness Day. Abuse can happen to anyone, but the elderly are particularly vulnerable. Abuse comes in all forms and isn't always just physical. We will go over the different types of abuse that seniors may go through in hopes that it will help you to recognize the signs that you or someone you love may be going through and get help to stop it. 
Emotional or Psychological Abuse
Emotional and/or psychological abuse is defined as an act that causes emotional pain, distress, or anguish. This can include humiliating, intimidating, harassing, threatening, insulting, or treating a senior like they are a child. There are also non-verbal types of emotional abuse such as isolating or giving an elderly person the "silent treatment." These types of treatments are just as hurtful as verbal abuse. Try looking for these signs of emotional or psychological abuse if you suspect a senior is being treated this way:
Signs of Emotional or Psychological Abuse
Appearing withdrawn or depressed
Appearing scared
Avoiding eye contact
Disruptions/changes in sleeping or eating patterns
Mood changes
Low-self esteem
Physical or Sexual Abuse 
Physical and sexual abuse is the act of physically harming someone. Hitting, punching, burning, kicking and even restraining someone are all forms of physical abuse. These types of abuse may be used to get an elderly person to do something they don't want to do or just because the abuser is angry or frustrated and is taking it out on them. Since senior citizens are more frail than someone younger they can be injured very easily and have obvious signs of abuse.
Signs of Physical or Sexual Abuse
Broken bones
Dislocated joints
Bruises
Burns
Poor explanations for injuries
Hospitalizations for similar injuries frequently
Self-treated injuries
Withdrawal from usual activities
Discomfort towards certain individuals
Panic attacks
Problems walking or sitting
New sexually transmitted diseases
Neglect
Neglect is the most common type of elder abuse. Neglect occurs when a caregiver is not properly caring for the individual they are supposed to be caring for. If a senior requires daily assistance for their activities of daily living (ADLs) or medical care, however they clearly appear to not be receiving it, that is neglect. Neglect can be either passive or active. Passive neglect is when the caregiver believes they are providing the care that is needed, but are clearly not. They may be experiencing caregiver burnout and not have enough resources which is causing extreme stress and/or exhaustion. Active neglect is when a caregiver is purposely withholding performing their caregiving responsibilities. 
Signs of Neglect
Poor nutrition/weight loss
Soiled clothing
Unhealthy hygiene
Not getting appropriate medical care
Abandonment
Sometimes when someone ages and they are not able to care or make decisions for themselves, they have a designated caregiver or guardian. Abandonment is a form of abuse when the caregiver or guardian abandons the person in their care and leaves them to fend for themselves.
Financial Abuse 
Financial abuse towards elderly comes in many different forms including theft, fraud, and other ways of extracting financial gains. Especially in the current world of technology, people will try to take advantage of seniors who aren't familiar with current technology. Scam phone calls pretending to be the IRS or social security will try to get seniors to give their credit card numbers. Cashing checks without authorization, forging signatures, stealing jewelry or money, or coercing someone into signing documents are all examples of financial abuse. 
Signs of Financial Abuse
A pattern of missing items
Elderly person who doesn't know about their financials
Unexplained money withdrawals from elders' account
Unexplained cancelled checks
Unpaid bills 
Financial arrangements with no documentation
Self-Neglect
Finally, self-neglect is a form of elder abuse. When someone is unable to successfully take care of themselves on a day to day basis and their health and wellness is declining because of it, this is self-neglect. When that happens, immediate actions must be taken to get that person some assistance whether it is in their homes or at a senior living facility. If you're unsure what type of care is appropriate for that person, use our Level of Care Tool and  Learning Videos to find out what options you have.
Signs of Self-Neglect
Bedsores or rashes
Weight loss
Soiled clothing
Poor sleep patterns
Unable to get dressed
Unable to give themselves proper nutrition
Unable to maintain hygiene
Unable to maintain home
Unable to transport themselves to medical appointments
Conclusion
As you can see there are many ways that seniors can be abused. We hope this helped you recognize the different signs to watch out for so you can protect yourself and your loved ones from having to go through it. Please check your state websites for phone numbers to local places where you can report elder abuse and help prevent it from happening any further. These phone numbers are typically answered 24 hours a day, 7 days a week. Of course, if there is an emergency that needs immediate attention please call 911 for assistance.