Beechwood
Getzville, NY - Assisted Living, Nursing Home, Independent Living, CCRC
As Western New York pioneers in the revolution of person-centered care, Beechwood Continuing Care welcomes you home.
Between Asbury Pointe, Blocher Homes, Beechwood Homes and Wesley Rehabilitation Center, you'll find independent living, assisted/enhanced living, short term rehabilitation, respite and hospice care to meet any of your senior living needs.
See More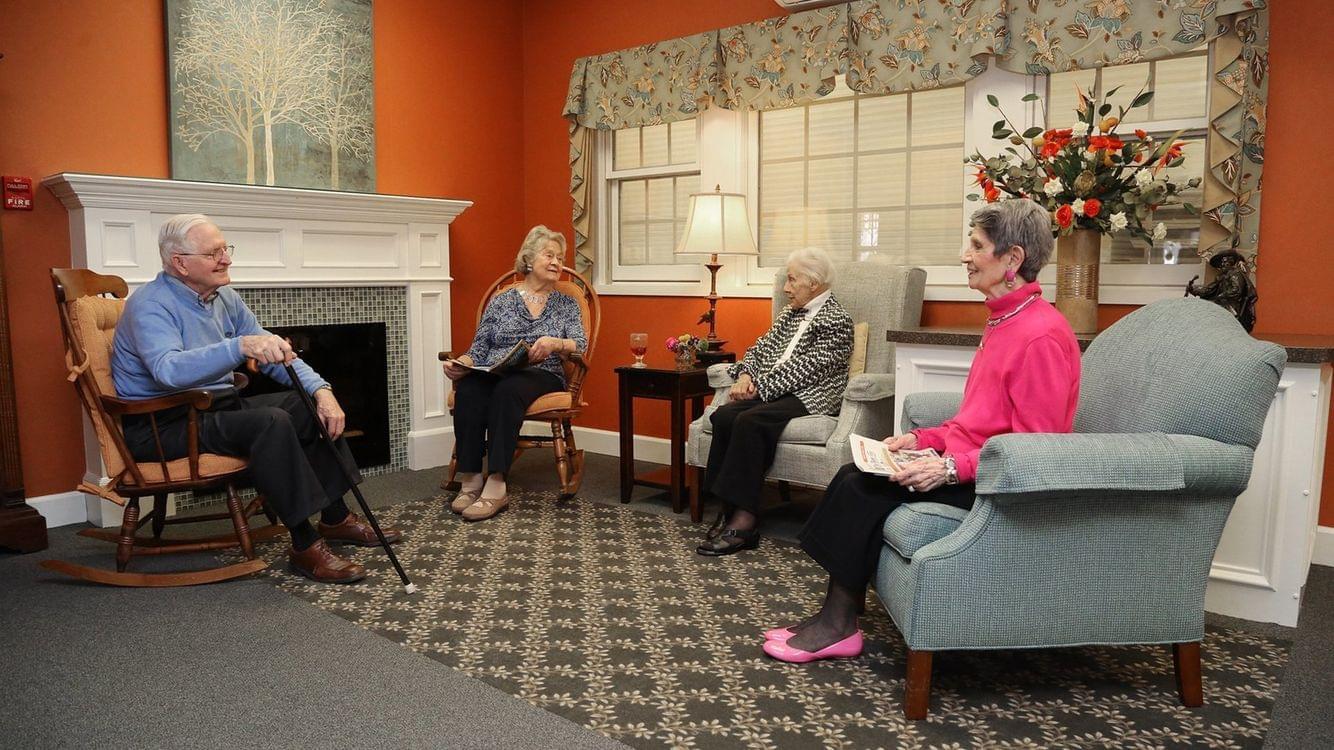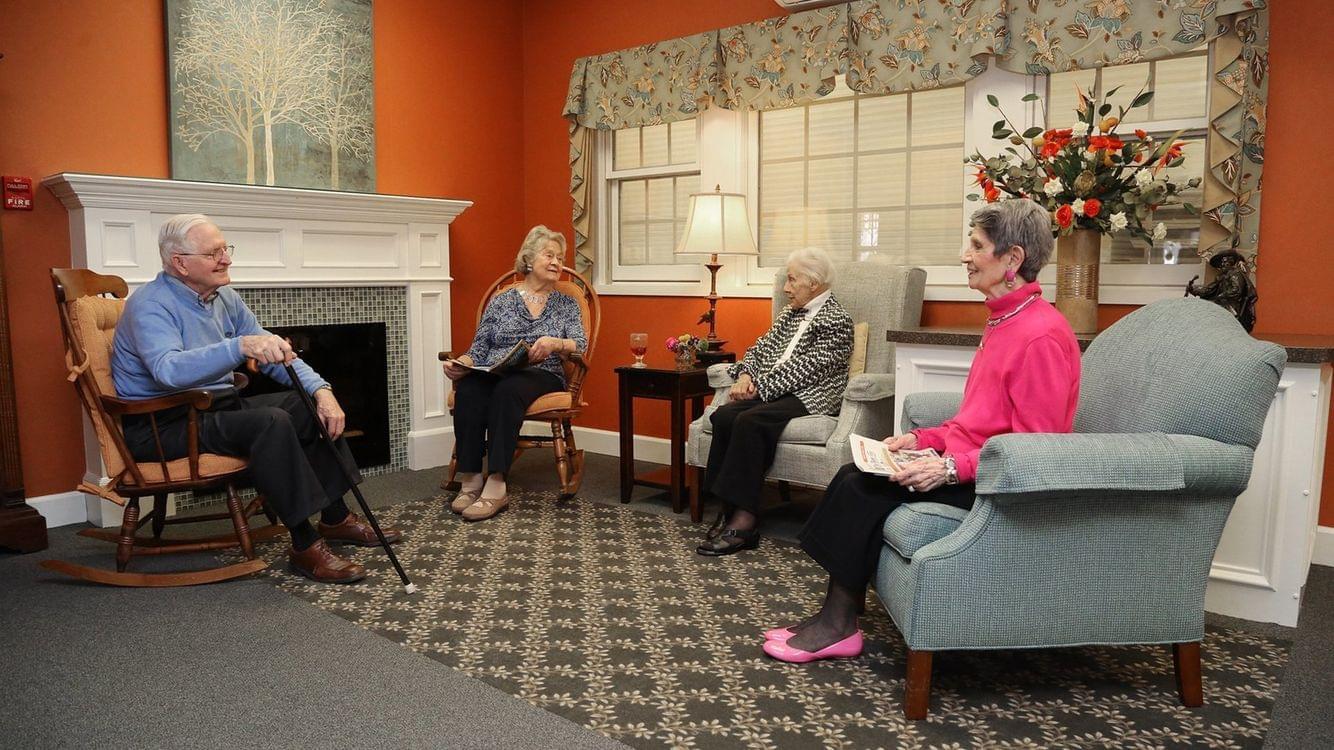 Additional Media
Videos
Video Transcript
Title: Asbury Pointe Testimonials
Time: 17 min 32 sec

Description:

none

Transcript:

life at Asbury point senior apartments can be almost anything you make of it a place to meet and make new friends a chance to become part of a real community or just a great place to live this is a senior living community at its best offering all the comfort and independence of apartment living with the added benefit of continued care should the need arise residents at Asbury point have the advantage of underground parking fine dining a wide range of amenities and a staff that pays attention to every last detail considering a fresh start it's your life Murray Point just helps you make it a better one [Music] the people here are so friendly and so wonderful and they really seem to care about how your life is going my family does not have to worry about me and so they're not nagging me and I'm not nagging them and it really works out well I don't have to go anywhere to do much of anything at all unless I want to I come and go I have a parking spot in the garage and I go to tours the tours that we go to such as the grain mills and the airplane Museum in Niagara Falls but lots of other things too and you can go anywhere in the van within ten miles and be picked up again it's all good I never had these many services before I was a service giver so it's been nice I go to church every Sunday and some other days and have my bridge club this in my book clubs and a lot of things away from here I can entertain any way I want here I have people over for lunch or dinner I can entertain in my apartment because it's large enough to do that maybe only six to eight people but it works out very well I had learned to know all of different places it was the only place to consider but I did look I looked everywhere if I didn't choose it for the people and for other things it would because of the decorating whoever did it did a beautiful job it's very classic very warm with beautiful colors that all meld together I have a lot of friends here who I had before and we all agree it's a perfect place we came in here we didn't know a soul we didn't know anybody we had moved around a bit so we didn't have any close friends in the Buffalo area that remained everybody in the group had spread their wings and so we came in here and the staff has been exceptional like they all I can't do enough to to help you whether it's from hanging a picture in the wall to arranging dinner and and in one of the private dining rooms it's just been very cooperative and the residents we seem to look out for each other and that works out very well oh we make new friends absolutely Asbury presents such a such a great appearance due to the work of many folks the maintenance folks do a great job the lawn keeping folks do a great job with their plantings their manicure and it just it just looks very pleasant all of the maintenance issues are taken care of if there's a problem with an appliance call a maintenance department put a put a work order and they'll see that it gets taken care of Darrow with the snow plowing in the wintertime it's just part of the ongoing year-round maintenance it's never a problem and the winter it's a great place to wash the salt off the car in shirtsleeves and the driveway is heated so it's not at all slippery summertime the outside the picnics outside there they're great there's well the last the last picnic is is clams and clams Casino Rock clams crab legs hamburgers cooked outside and the grill I mean it's just it's just great Jones the the decorator and she has great taste as you said you've you've seen the the apartment and we're just very comfortable up there I think the biggest benefits for for us here at Asbury are the staff and the residents are friendly very friendly they can't do enough for us and ditto with the residents and we can't do enough for each other and Asbury takes such good care of the whole facility it's such has such great I appeal if you really you once you get in the front door you just fall in love with the place most of my friends who come and and I have invited because they say what is it like so I figured come you can have a cocktail in my apartment and have a lovely dinner but when they finish they say things like wow it's just like a ritz-carlton and I can't think of any better place to live frankly than a ritz-carlton so I'm very happy with my decision there's a certain ambience about Asbury the minute you come in you you feel it you know the friendliness of everyone the staff my fellow how shall I say renters etc it's just it's nice its homey like and of course one of the big things which my predecessor talked about was the underground parking nothing like that so it gives you the freedom in your years of retirement to do most anything because you haven't all those cares about a home whether the plow will come or what happens when this breaks down etc I just I I feel a great relief being here I did my research which I would encourage everyone to do to go around and visit all the facilities that there are in western New York the corridors aren't even that long as some of the other facilities and therefore you get to know everyone and and it's it's family it's my impression family friendly you know what more would you want I think that they have a wonderful staff everyone is immensely friendly and helpful I mean if you want something done you just tell them at the front desk and by tomorrow someone will be there to assist you so you couldn't get that if you remained in your home had to call an outside vendor that's for sure I just like everyone and everyone seems to get on and the residents very friendly and every night you can sit with someone different for dinner the food is is very good it's it's a full menu and that has specials every night and they try very hard to please everyone so the selections are great and the quality of the food is great if you have a home you still have to have someone check it you know when you're gone for an extended period of time here that's not necessary my apartment will be the same the next time I walk in it and whether I'm a way for a meeting a week a weekend or a month I love it my friends all love it so I keep telling them well I'm sure we'll have a vacancy when you're ready I am so pleased that I found the reputation that Beachwood had caused us to put our money down before there was even a shovel in the ground the morning that we were allowed to move in which was January 4th a Monday at 10 o'clock in the morning the first residents I just absolutely fell in love with my apartment at that time I liked being able to come home after being out and finding my beautiful sunny apartment just loved it and no I don't have to worry about getting dinner because I've been out I'm tired they do give you a chance to have something really homestyle not always gourmet but boy when they put on a gourmet dinner it's really gourmet we go from the top of the line down to macaroni and cheese every once in a while and that's great they're friends to be have who will do things with you if you want them and we are just the perfect size and everybody is pleasant and welcoming and cooperative and it's just a great place that way it is a little community unto itself I still put my car away and come up to that door and I see my clean kitchen and my Sunday bedroom and I'm happy it's a wonderful place there's um the friends that you meet and the people that are here the employee is the staff are just so helpful and there's so much to do you know it's clean it's it's light and bright so many of the places that I looked at before of her dark and everybody was so solemn and I said no that's not for us Oh everybody is bright and cheery and everybody says hello to everybody and we just have a good time and that's that's all about we're here and we're a big family really but now I'm on my own and I'm starting all over again and this is a fresh start and it's working out beautifully even everyone has been very helpful and everyone is so kind and they just want you to join in on everything and there are all these activities that you have to go to so it could keep you busy all the time if you really want to children I just can't say enough about it as Boreas which is just a wonderful wonderful place well I flew combat on the fifth their force and you grow a camaraderie with your crew and with your fellow men and as you get old you need that like I said up previously you lose your friends it is very you gain new friends and they're good ones and I enjoy being with them I don't miss mowing the lawn I don't miss painting I don't miss a lot of chores I have to head to do around the house that's the most wonderful thing a bulb burns out and you call go down to the desk or call the desk and say fix this fix that and someone's down there in a matter of minutes fixing it that's great each week we have entertainment the staff always provides a very good form of transportation so generally everything that guy needs at my age the food is good it's a nice place to live they take care of you help is good they're excellent and it's well-run well-managed I live in Asbury point in a very enthusiastic about the place I am basically an enthusiastic person but when I speak about Asbury I'm very sincere it covers all the bases the friends I've made are wonderful the meals perfection the entertainment all consuming I'm never bored and yet what I want to be alone this is an important feature I closed my door and I remained by myself a lot of places you can't do that this place is structured but you don't feel it you know I don't feel like a child living here do this do that and there it getting your own apartment - you do your own thing which is very nice I think the best thing about this place is you keep your independence you're not so scheduled you're as scheduled as you want to be oh my gosh have you heard about their meals they can't be surpassed so that would mean the meals are perfect from beginning to end and that's the other thing you could eat as much as you want eat as little as you want it's not some of these places are more regimented this place isn't I love family I love children I love that whole scene I was a very happy homemaker but to find a place that can replace that this place is it I think the test comes when your family comes like I said my children they don't want to leave it's a wonderful way to live the doctor was giving me the outline of what to expect with the total knee replacement and he said that you would have to spend several days in rehab I said I know exactly where I want to go can I make it request and there was no problem I just felt that I better go over to Wesley and let them know that I was having my surgery and such in such a day to make sure that they had a room ready for me and it all worked out beautifully I had heard a lot about as very point and I was know so impressed that I decided that that would be a good move of the time came and just recently three years ago the time came and I am so happy at every point and I'm so relieved to to know that it is very point if anything ever happened to me I would be in good hands if I had to go over to Wesley or to Beachwood such as living or nursing home I was in good hands all the nicest group of people it's just amazing how they can have so many lovely people in one place it's just I haven't met a single person there that I wasn't comfortable with and you know the staff is so lovely over there I think that one of the reasons everybody's so happy it's because the staff is so nice and the staff is happy because the people are so nice but it just makes a very very comfortable place to live it was the wisest move I ever made and I'm glad that I actually looked it is very point before I really felt that it was necessary to sell my house and make a move like that the under part and parking is lovely it's just it's so night and I never saw such a clean garage it is warm people are going to think I'm not telling the truth but I don't have anything really complain to learn more call eight 1:07 500 or visit us online you won't be disappointed [Music]

Video Transcript
Title: Blocher Homes Testimonials
Time: 9 min 26 sec

Description:

none

Transcript:

assisted-living uploader homes allow senior residents to enjoy life in the comfort and privacy of their own room or suite with the added security of 24-hour supervised personal and nursing care residents can enjoy a variety of activities including chef prepared meals full housekeeping and scheduled transportation services bloggers homes residents also have privileged access to the Wesley rehabilitation center and Beachwood homes for skilled nursing care should the need arise [Music] my mom is good she fell and broke her hip broke her femur in March and rehabbed at Beachwood and from Beachwood she came to blocker for assisted living and she has been here since June and she has had lots of company family and friends and they are all impressed with the blocker homes and and how lovely it is how convenient it is how carrying all of the staff seemed to be we came here and were given a tour and we liked the facility the proximity to our home and the our children all live in the area so it's easy for them to get this year and we just decided this would be the place and mom came and she agreed as well so she's been here since June 9th but they make you feel so welcomed and they they're constantly asking you do you need this or do you not and there's they're just so good that you can't help liking it and in spite of myself I've learned to love it this is this surpasses everything I'm just happy to be here they don't only feed you they love you and take care of you really yeah they're really great people they have people come in showing films they have people come in we've had people bring animals in and that's very acceptable and of course we all like to eat and they have four lovely refreshments they have they have series of films of different parts of the country and historical information of prominent people and I think I think they're great she was living in her apartment there was always an issue of did I put the right medicine out that I put the right amount out was it taken was the food that we bought when we went grocery shopping cooked and eaten and now I have none of those concerns that if it's if it's time to eat and she doesn't show up they come and get her I know that her meds are delivered on time and that's a great peace of mind a great comfort to know that those needs are taken care of they want everybody to be comfortable and happy and they try and suit I've seen people sit at the table and say oh I don't like that well what would you like and then they go to the kitchen and say well we don't have so-and-so but here would you like this they there's not many places that would do that I know that mom is is much healthier than she was when she was living in her own apartment because she's eating regularly and her medication is delivered regularly I know that since she's been ad blocker I sleep better at night knowing that she's being cared for that she's been fed and medicated as needed and that there are a group of people that bloke her homes that really care about those who reside here my mother was living alone in a house I'm a big house with four bedrooms and she was falling and having problems with cooking and cleaning and keeping up so my brother's my sister and I decided that it was time to start looking for some place for her to go and we came to the block her home and it's been wonderful ever since it's a wonderful place my mother's happy she's taken care of she has wonderful dinners which is a beautiful room which she loves and we all get to come and visit anytime um they have a Wii bowling which my mother was so very into when she first got here because she used to Bowl years ago they have a summer picnic that is out of this world it is so much fun and everybody in your family is invited from the youngest to them and local homes puts on such a beautiful day they have a huge tent out back and everybody just has a great great time the staff is so wonderful and they're always smiling and the meals are delicious we had lunch today and you have so many choices but the people here are just friendly and warm and caring and to put your parents in a place where you know they're cared for it's like the biggest relief that you can have it's such a mindset of that having and knowing that your parent is being well taken care of and that's what it is here at bloger homes yeah I have such peace of mind knowing that she's taken care of not having to worry that she's in the house by herself not having to worry that she fell and has no help this has been a huge relief we're just happy to be in the volcker system and to be here hey being the independent and wise person that makes always makes wise decisions always for himself he amazes me he called me up one day and he said sue I'm ready and I said ready for wife and he said the poker Holmes I'm ready to move in you know I'm ready to not cook and not do laundry and it's it just worked out beautifully and for me you know what better you know I didn't know blow fur at the time I did not select Volcker he selected look poker he had been here and he picked it himself I still like to go to your place for pumpkin pie though and I love to have you you know everywhere I go people ask me how's your dad cuz everybody knows my dad we're in an area we've always been in and how's you dead and he's a poker now right yes and well how do you like it you know I can't say enough good things about it it's just he says it himself when he says it's the right place at the right time and that really says it all poker it's a real special meaning to the term continuing care it's really that it's continuing but in a special way it lets you do what you'd like to do he still can be his independent self he can make decisions for himself about what he wants to do or doesn't want to do it locha Holmes is probably the best example of continuing care that's the way I hope everybody can live when they get to this point so it's a special place it's just super for me to know the dance here and somebody you know they know they can call me if they need me but I know that you know that somebody's watching out for him like he watched out for me for you I had a very good friend who lived here and I used to pick her up often to take her for lunch or something but I never really stayed in Booker very long to know how nice the program was she would tell me and I would think oh I'm so glad she's satisfied you know without realizing that it was marvelous that's the reason I came to Booker and I think of her often because there are so many nice things about Booker I love being spoiled they do everything make your bed in the morning open it up at night change the bedding once a week take care of everything in the dining room just you go down for your pills there they are you don't even have to remember them they take care of I don't do anything anything at all it's wonderful I'm very good at it they have a good program going there something there are several things every day that you can go to or not and they are fun some of our fun some are serious but they're all interesting it's such a nice place here at Boger that you get so you almost know everybody to begin with I never thought I'd live to be 96 and to be able to be here and be as active as we are is unbelievable to learn more about Locher homes call or visit us online at beechwood care org you won't be disappointed [Music]

Video Transcript
Title: Beechwood Homes Web Video FINAL
Time: 9 min 29 sec

Description:

none

Transcript:

Beachwood Holmes is proud to be the first to introduce person-centered care and household living to Western New York with a completely unique approach to skilled nursing called welcome home this unique setting allows residents the opportunity to become part of an extended family sharin activities and develop new friendships gone are the days of institutional living and rigid schedules at Beachwood homes every opportunity is taken to provide comfort for our residents and peace of mind for their families [Music] my father passed away and the she was living in the condominium which was nice but it would have been pretty insecure there's still a lot of things you have to do in a condominium and that so right at that time we were accepted for Asbury and that was it happened almost a week he passed away and her mom jumped on it right away she was very happy to come over to aspirin we had a nice five years there and then it became progressively she needed a little bit more help so and we provided some of that ourselves and we found out how difficult that was and so we actually did the step between Asbury and and where she is right now we actually did that ourselves with on coming in no evenings and things like that it was a pretty exhausting and a lot of stress than the whole family we do have a lot of family members I don't know what people do what families do what there's only one or two children but this has been wonderful Mannesmann accepted it cut the Cummings house and it's been a nice experience so far which has been dumb no we're getting out a year now that's been really helpful to the family and I think - mom - she feels more comfortable here I appreciate that actually the contractual part of it - and the idea that we could have stages of care that was very important and we did it was we didn't do it'll do it lightly we did look at some other possibilities - including like maybe somebody coming to live with her but it was some it was wonderful the Asbury experience was so it was really good as a stage and I don't know why people want to stay in their homes when they can him a place as beautiful as that and then and they have the just as beautiful as at this location - I the staff has been very flexible exciting surprisingly so because you know we do come in and ask him for help I just for example you know as we came today I needed some help with the oxygen and they immediately respond and we were surprised even that we had so many qualified people a couple of nurses LPN and and always on duty and that's been really helpful so we were very happy with that and but they they could have been inflexible and they're not they are very good to take care of us and no not responding is if we're interfering with them they're very young friendly the staff so the meals have been really good it's what's there and there are choices and she can see that what the choices and and and then he'd would what's available it isn't just about them doing for us I mean we still want to take care of her mother we've always wanted to do and that was the thing but it just we could no longer provide that care for and it's in a safe environment and so this has been the best of both worlds that we can come in here and the staff is flexible and they let us take her out they let us I mean really anything that we have wanted they have helped us with them so many things that have become so much easier for us now because of that heaven the aid was a relief for a while but that again wasn't enough and she did need the skilled nursing but I've never really thought of this if you compare this to other what I always thought was a nursing home I never thought of this as skilled nursing here now it doesn't seem even though she has the full-time nurse and she has the AIDS it doesn't ever seem like it's that environment to me not here not at Beachwood so now that the maintenance part of it has been taken away from us we can just come over and have fun with her and how nice is that at this stage of her life at Beech which he sees people and people are in and everybody comes in and talks to her and they're so friendly every single person is just unbelievably friendly to her I said oh my gosh this is so right this is so right yeah it's fun I mean they're wonderful I mean I mean they're friends that's all I could save for them because they're they're very nice people and and I enjoyed being with them mom had been living in her own home and he had been functioning my niece lived with her but fell one day broke her hip and I just knew it was coming one day you know slipped in the kitchen and fell and broke her hip so we knew she would not be able to go home after that she ended up in the hospital they repaired the hip but she would have to go someplace for rehab and then eventually to stay there because her house was the two-story her bedrooms around the second floor she we would have had to make major changes and have somebody to come in and help I mean the rest of my our siblings work so it was like it kind of fell on the two of us you know so when it was like where she'd go for rehab and that I just told the hospital I said I wanted her at Beachwood so of course it was the bed and she ended up in Beachwood you know which we had been very happy about ever since she has adjusted very well and the the staff has just been phenomenal absolutely phenomenal everything is done within the household just like you would have it at home and it's much more comfortable I think for the family member to know that this is what their their family members is experiencing that it's like living at your own home independently except you've got people to help you it's it's not the the institutional setting know which is you know in the hospital setting it's an institutional thing which is it's just cold and it's it's not warm at all like going to the big dining room for dinner and go right you know going to the big room with a you know many other people to watch TV that you don't want to see it's much more personal touch it's like living in your own home with a group of people around to help you get dressed and help you you know decide what you'd like for lunch or for dinner that day and they're there to help but they also spend a lot of time all of the aides just visiting with all the residents and and making sure that they are comfortable and happy and do they want to watch TV or do they want to sit and talk to somebody else so they're they're a lot more active in the residents lives than in say a traditional nursing home setting and we tell our brothers and our sisters you know if there's something that you want changed or something to do she needs something when you're here just go to one of the eights and they're happy and they are very happy to do it they will get you a dish of ice cream or a cookie or a glass of water it doesn't matter but they're right there to help even the family members when they come and visit and make them feel comfortable it feels like home it feels like an open-concept house that you're going to move into there's a living room area with a very nice TV and easy chair sitting around fireplace a fireplace there's a stereo if they just want music there is a dining area where they tap their meals and then there's at the back of the room a kitchen area where once they get the food they can either warm it up or cook more or prepare anything actually that you want at the dining room tables they sit at tables for about four and they can visit with each other it's a nice size you have the staff to be able to help everybody and for the other for the residents to all interact - there's always a big deal and it's the coordinator who's making it the big deal getting everybody involved in making it like home like you would bring your family together for a big event and she makes every birthday a celebration whether you're 89 like mom was or a hundred like some another lady was it doesn't matter every birthdays a celebration but it's a party for everybody in the household and the families the aides are just ever fantastic and as I said the education level when they graduate here they're all they're all very good very very good and when she came in here we never would go away at the same time we would always one with one was always here you know because we had to get comfortable with the whole setting ourselves so last year last spring we went on vacation at the same time together and we came back and it was fine I mean you know we had to get over the anxiety she was very well taken care of there was absolutely no problems it's something we never would have done had she been still living at home I never ever would have left town at the same time I think families have to get over it yeah they have to understand that the person they're there where family member is well taken care of and consistently so especially in the household in our household because we particularly like it to learn more about beechwood homes call or visit us online at beechwood care org you won't be disappointed [Music]

Floor Plans
No media of this type.
Getzville Senior Living Near Me