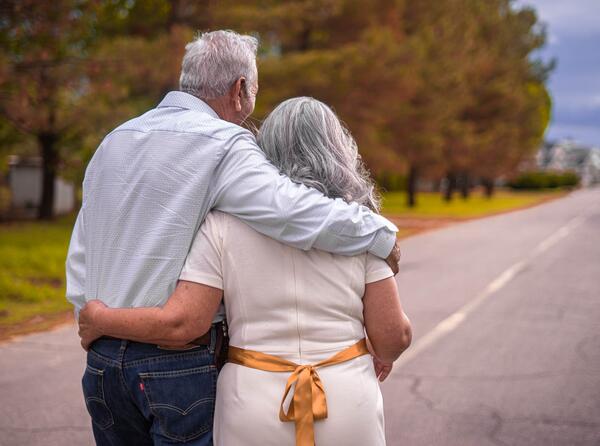 4 Ways to Stay in Love As a Senior Couple
Tuesday, September 19, 2023
Everyone dreams of staying and growing old with one person their entire life. Aging and spending decades together can strain your relationship, with divorce rates at 39% for aging couples. Love is a choice, and while you need to work for it, it's worth it. Adopting some habits and practices together can help you reignite the flame and stay in love. Here are four ways you can adopt to stay or fall in love again.
Maintain Your Physical Intimacy
Sometimes spending decades together makes physical intimacy less of a priority in older relationships, but physical intimacy is crucial for fostering relationships. Have open communication, talk to each other about the cause of your low intimacy, and find solutions.  If there is a loss of passion, you can ignite it by scheduling dates or going on a getaway for the weekend.

Recalling things that made you fall in love in the first place can help you ignite the passion again. These can be something as small as small gestures and actions such as holding hands or saying 'I love you' every day. One of the causes of difficulty can be erectile dysfunction; nearly 70% of men over 70 suffer from it. To treat it, you can get online Sildenafil delivered straight to your door. However, note that you should never indulge in self-medication and consult a doctor before starting the prescription.
Don't Become Each Others Primary Caregiver
If your partner is sick, you are usually responsible for their care. While it is admirable, you do not have to care for them alone. Let your family and friends contribute too, and if you can afford it, consider hiring help.  Because when partners start caregiving for each other full-time, they can view their loved one as a patient and not as a lover anymore.
Maintain Your Physical Health
One of the biggest misconceptions is that aging automatically leads to bad health. If you take care of your body, it will stay healthy and energetic for a long time to come. This will make you more likely to be happier and find joy with your partner since exercise produces endorphins, hormones that make you happy and relieve stress. Exercising also makes your muscles stronger so you can do your daily activities without being dependent on anyone, such as your partner.
Additionally, you may believe that testosterone levels decrease with age. According to research, age alone isn't the cause for lower testosterone levels that lead to low sex drive. Old men with good health don't show a decrease in this hormone's levels. So taking care of your physical health can help you maintain a healthy sex life through activities such as weightlifting, which has been shown to keep men healthy with high testosterone levels.
Have Some Alone Time
Alone time is essential for people of all ages, especially retired couples. If you spend all your time together after retirement, consider giving each other some space to be alone. Consider spending time with your friends alone or starting a new hobby yourself. You may also have begun to hate sleeping with your partner because of their snoring habits. Sleep disruption is more common in older adults, and men are more likely to snore with age.  This lack of sleep can strain your relationship and make you more irritable with each other. Getting separate beds or bedrooms can help you save your relationship.
Endnote
It can be hard to stay in love when you're together for decades, but adopting some practices can help you stay in love, such as maintaining physical intimacy. While it may seem like a lot of work, staying in love while growing old together for a long, happy marriage is worth it.