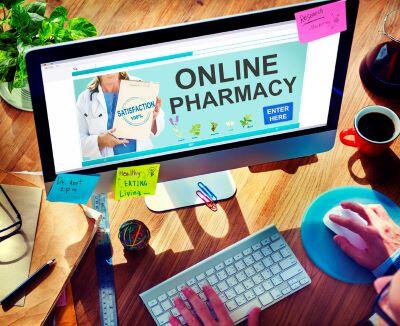 5 Benefits of Online Pharmacies for Seniors
Thursday, May 6, 2021
Many insurance policies, including Medicare Part D, provide coverage for online pharmacy orders and home delivery.
Online pharmacies are becoming more and more popular as the years go on. You can buy almost anything online these days and prescriptions are no different. Online pharmacies offer an easy and convenient option for those who can't or don't want to leave their homes. Many insurance policies, including Medicare Part D provide coverage for online pharmacy orders and home delivery. Of course, just because you order some medications online doesn't mean you're bound to only ordering online. You can still get some medications in-store if you prefer to do that too. Keep reading to find out all of the benefits of using an online pharmacy.
Multiple Medications
When ordering prescriptions at an in-store pharmacy a person may have multiple medicines they are in need of. Stores do not have the capacity to stock every single type of medication because there is an endless amount. You may be able to get some of the medications filled but have to wait for others to be shipped to store and inconveniently have to take more than one trip the pharmacy. That's one of the benefits of ordering from an online pharmacy, you most likely will be able to get all of your medications within one shipment at the same time, shipped directly to your house.
Easy and Convenient
If you're having a hard time leaving your house, ordering your prescriptions online is the perfect option. With your valid prescriptions, you're able to go to the online pharmacy of your choosing, click which medications you want to order and get them delivered in the mail. Most of the time if you choose an online pharmacy that is included with your insurance plan, your doctor will send the prescriptions to that pharmacy so you don't have to deal with any paper prescriptions. This makes it easy and convenient and you don't have to worry about losing the paper prescription.
Lower Cost
Depending on your insurance, your medications may be offered at a lower price when purchasing them online versus in store. Some online pharmacies will also offer promotional codes that can help you save even more money. Many online pharmacies also offer free shipping, which makes it nice because there is no extra cost to you. If you're in need of your medication sooner than the free shipping dates, overnight shipping can be purchased for an additional fee.
Automatic Refills 
Adding to the ease and convenience, you're able to opt-in to automatic prescription refills. The online pharmacy will have a record of when you're starting to run low on medications and will automatically refill and ship to your house. Once your refills run out, you can easily go online, request a prescription refill from your doctor, and the prescription will be updated and continue to send out. With automatic refills and prescription requests, it takes a lot of the mind and will put you at ease knowing your medications will be filled and delivered on time.
Safety Tips When Buying Online
There are key things to look for when you're using an online pharmacy to make sure it is a legitimate and you safely get the correct medication. Confirm the website you're on has these requirements before giving out your personal information or placing an order.
Prescription Required- Make sure the website you're using requires a prescription when placing your order. Websites that don't require a prescription are not legitimate.
 
Licensed- Buy from online pharmacies that are licensed. You can check to see if they are licensed on FDA.gov's website.
 
Pharmacist Available- The online pharmacy should have a licensed pharmacist available for your prescription questions.
 
Address & Phone Number- The website should have a physical address and phone number listed for contact and questions in the United States. If you see they offer shipping worldwide, that may be a red flag.
 
Secure Personal Information- Check the websites privacy policies and security of personal information to be sure they don't sell your information.
 
"Too Good To Be True"- if what they're offering seems too good to be true, it probably is. While it is very common for online pharmacies to offer discounts on medications, if they're offering name brand medications at a fraction of the cost and/or not requiring any co-pays it's likely they are not legitimate.