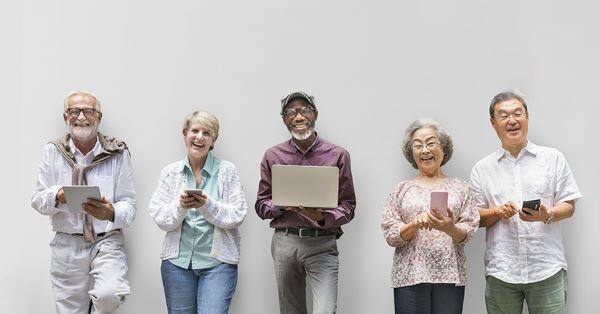 Tech Devices to Help Boost Seniors' Quality of Life
Thursday, April 15, 2021
Technology is now part of everyday life for most people. Older adults may have some difficulty with learning all of these new gadgets, however many companies are coming out with senior friendly devices that can actually improve the lives of seniors. While some people may be hesitant to try out new devices that use technology, most will find that they are actually very beneficial and will see an improvement with their use. Ranging from cellphones to keep in touch with family and friends to automatic pill dispensers to keep your medications organized, check out these tech devices that will help with senior citizens' quality of life.
RAZ Memory Cell Phone
The RAZ Memory Cell Phone ensures that individuals with dementia or intellectual disabilities stay connected with their loved ones whether they are at home or away from home.
Individuals with memory loss may not remember phone numbers or even names. Many of them are not open to new technology and don't remember how to use a smartphone or even basic cell phones and home phones. Many buttons, options and screens can create a fear of technology and confusion causing individuals with memory loss to stop calling and interacting with loved ones.
This phone is very simplistic and has only one screen on the phone. There are no settings, notifications, voicemail, applications or operating system updates, making it very easy to use.
Amazon Echo Show 10 
The Amazon Echo Show makes it easy to stay in touch. Make video calls to friends and family who have Skype, the Alexa app, an Echo Spot, Zoom, or Echo Show. This device is made to automatically swivels around to keep you in frame during video calls or while you're following a recipe while cooking in the kitchen. If cooking is something you're interested in, use this device to easily look up recipes, create shopping lists, or figure out how many teaspoons are in a tablespoon. A 1-year complimentary subscription is included to Food Network Kitchen Premium, get exclusive access to cooking classes and shows.
Streaming shows or movies, listening to music, reading, or checking in on your security cameras around the house are some of the other activities you can use the Echo Show for. If you have other smart devices around, use the Echo Show to voice activate security cameras, lights, thermostats, and more. The Echo Show can help make you're life easier with this all-in-one device. 
Reminder Rosie 
Reminder Rosie is a talking alarm clock with personalized voice reminders. Rosie tells them what to do so your don't have to! Reminder Rosie alarm clock is a hands-free, voice activated memory aid and daily organizer. It helps people stay on task with personalized reminders, at home or work. Suitable for both repeated tasks at a specific time and day or one time reminders by calendar date. Medication, doctor or work appointments, mealtimes, favorite activities, personal tasks, birthdays and much more – messages play back in a familiar or a loved one's voice for improved compliance. Caregiving made simple, it increases independence and safety.
Robotic Pets
Joy For All is a brand that makes a variety of Robotic Pets. Seniors who feel lonely may not be capable of taking care of a real animal. Robotic pets provide a rich experience for older adults by allowing them to recreate some of the delightful moments of owning a pet without the responsibility. These dogs and kitties look, feel, and sound like the real thing. Thanks to built-in sensor technology, the companion pets respond to petting and motion much like the pets you know and love. This two-way interaction helps create a personally rich experience that can bring fun, joy, and friendship to an older adult in your life.
Virtual Reality Devices 
Virtual Reality Devices such as the Pansonite VR Headset have become very popular in the past few years. Though they are primarily used for video games, they can be used for many other things. The Pansonite VR Headset only requires a smartphone for use. These devices are a simple head set that goes over the top of the head and over your eyes, like oversized goggles. Seniors can benefit from using these for multiple purposes. Aging may cause trouble with being mobile, and for someone who liked traveling or experiencing new places using virtual reality can give them the virtual experience of traveling. The National Geographic app gives users a 360 degree view putting them right in the middle of the action, whether it's swimming with sharks, observing a family of gorillas or learning about other cultures. Rendever is an app specifically made for senior citizens to help them connect with residents of other senior living facilities to get socialization and combat loneliness. Of course, these headsets can be used for something more simple such as watching 3D movies or virtually relaxing on a beach for meditation.
LiveFine Automatic Pill Dispenser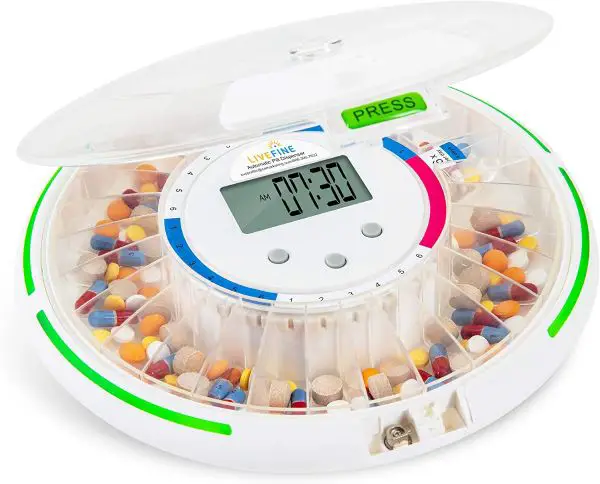 LiveFine's Automatic 28-Day Pill Dispenser keeps drug doses locked away until the exact moment they need to be taken. There is  a timer and alerts, which protects against mistaken or forgotten dosages, while eliminating the need for constant refilling. To provide peace of mind to patients and their caregivers, alerts are easily programmed to the minute via the LCD interface. You can quickly customize the drug regimen with one of 6 rotating templates for 1-6 daily doses. Each of the 28 compartments holds up to 18 aspirin sized pills. The alerts will sound for 30 minutes until the patient retrieves pills. The screen and controls enable users to set the clock, program alerts to the minute, and select from a variety of volume and other settings. The screen shuts after 10 minutes to save power, while smart technology keeps recorded settings even when batteries fail.
Why Should You Buy These?
Whether you want to keep in touch with family or friends in case of emergencies or you're feeling lonely and could use a pet companion, these technology devices can be very helpful for your mental health. Technology doesn't have to be scary and overwhelming. It is a good thing that can provide beneficial support for you or your loved ones, you just have to look for the right devices.