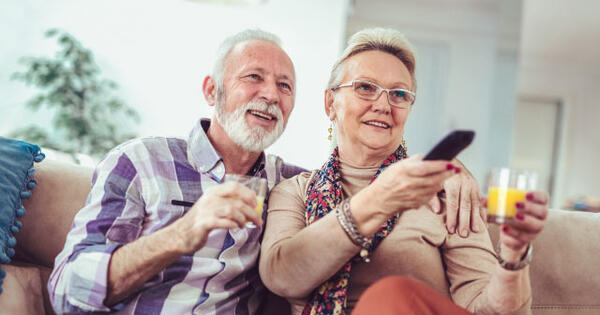 Best Streaming Services for Seniors in 2021
Monday, March 29, 2021
"Cutting the cord" has been a very popular trend over the last few years. If you've never heard this term before, it refers to cutting out cable services for TV. Cable has grown increasingly expensive with extensive plans and contracts. You either need to be wired specifically for each cable company or have a dish installed on your house. This can make it difficult if you're living in a senior living facility. Some facilities may offer cable services as part of their monthly fee. Many of these streaming services are offered at a fraction of the price of cable starting at just $4.99 per month and you're not locked into any contracts with your subscription. If you are unsure about which one you will enjoy, most of them offer a free trial period before enrolling into one of their subscription plans.
The best part of using a streaming service is that there are so many out there, you can choose the best one for you based on what type of programs you like to watch. Sports, home and garden, movies, and original series can all be found in one or more of these services. You can watch TV shows or movies on your TV, tablet, computer or cellphone which gives you a lot of flexibility. If you don't have a smart TV, you can buy an inexpensive device such as an Amazon Fire Stick or Roku to plug into your TV. These devices allow you to watch multiple streaming applications right on your TV. If you're traveling or exercising you can use your tablet or cellphone to download the app and streaming directly on your device.
Keep reading below for some of the best streaming services to see what they have to offer.
Amazon Prime Video 
Amazon Prime Video is a streaming service offered through Amazon.com. If you already have an Amazon Prime account then you'll be able to get access to the thousands of shows and movies they offer. There is also the option to rent or buy movies through Prime Video. Amazon produces award winning and critically acclaimed original movies and TV shows that are not streamed anywhere else. Stream unlimited movies and TV episodes from the Prime Video app on your compatible Fire TV, smart TV, streaming media player, game console, mobile phone or tablet.
Hulu 
Hulu is one of the more well known streaming services and is a great alternative to having cable because of their subscription types. For the basic Hulu subscription it is $5.99 per month which includes thousands of TV shows and movie, including Hulu originals. They do have bundle options to include Disney+ and ESPN which starts at $12.99 per month. If you still want more added, there are premium channels available to add for additional fees including Showtime, HBO Max, Cinemax, and/or Starz. Hulu has their own live tv streaming service that costs $64.99 per month. There are many options available for Hulu subscriptions to choose from based on what types of things you want to watch.
FuboTV 
For those who are interested in watching mostly sports, FuboTV is the streaming service for you. For $64.99 per month you get over 100 channels and 130 events included. Fifty one of the channels are sports related including most of the major sports channels such as ESPN, ESPN2, Nesn, MLB, NBCSN, and much more. If you want to try it out, there's a free 7 day trial available.
Paramount+ 
Paramount+ is a new streaming service that started in 2021. It was previously known as CBS All Access, but changed to Paramount+ to include all of CBS's shows plus much more. Sports, family shows, movies, news, cartoons, and original films and shows. For a limited time, there is a trial period, but after that it is $5.99 per month or $59.99 per year. Live sports aired on CBS can be watched through this subscription.
Roku 
Roku is a device for your TV but they also have their own streaming service. Roku devices act as the home for all of your entertainment so you can streamline your setup, replace your expensive cable equipment, and watch what you love, all while saving money. All Roku devices provide easy access to free TV, live news, sports, movies, and more, so you can be confident that you won't miss a thing. Roku devices start at $34.99. If you want to add premium channels you can do that for an additional fee. Showtime, STARZ, Cinemax, and Hallmark are some of the premium channels available for upgrade starting at $9.99 per month per channel.
Netflix 
Netflix is perhaps the most well known streaming service out there. Netflix is a streaming service that offers a wide variety of award-winning TV shows, movies, anime, documentaries, and more on thousands of internet-connected devices. You can watch as much as you want, whenever you want without a single commercial – all for one low monthly price. There's always something new to discover and new TV shows and movies are added every week. Netflix starts at $8.99 per month and there are no extra costs associated with it.
Apple TV+ 
Apple TV+ is a streaming service featuring Apple Originals, award-winning series, compelling dramas, groundbreaking documentaries, kids' entertainment, comedies, and more, with new Apple Originals added every month. If you buy an eligible Apple device, Apple TV+ is included free for one year (if claimed within 90 days of the purchase. A regular monthly subscription is just $4.99 per month after a free seven-day trial and can be watched on iPads, cellphones, Roku devices, Samsung Smart Tvs, or Firesticks. There are no commercials in this streaming services and some show series release all news episodes in one day and others release once a week on Fridays.
Peacock TV 
Peacock is a free, no credit card required streaming service. You just need an email address and password to sign up to access thousands of hours of great entertainment instantly. Once you're signed up, you can start watching Peacock right away, no strings attached. You're able to upgrade to Peacock Premium for $4.99 per month which unlocks even more content. Content included in the free version include movies, TV shows, sports, news and pop culture.
Disney+ 
If you love Disney or have grandchildren who do, then Disney+ streaming services is perfect for you. Disney+ includes all movies and TV shows from Disney. It also includes all Marvel movies, Star Wars, Pixar, and National Geographic shows and movies. This service is $6.99 per month or $69.99 per year. It can be streamed on all major game consoles, smart TVs, tablets, computers and cellphones.