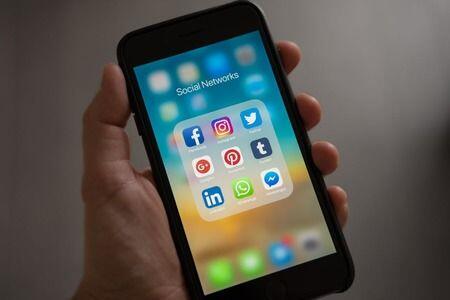 10 Best Cell Phones for Seniors in 2023: Pros and Cons Buyers Should Know
Wednesday, February 8, 2023
It's estimated that more than five billion in the world today have some sort of cell phone. And about half of those people use a smartphone. Those numbers are growing rapidly, especially among seniors. As a matter of fact baby boomers use smartphones and care more about technology than ever before.  Statistically 68% of baby boomers own smartphones and use them as their main resource for online searching.  
There is a huge variety of smartphones available today. And each of those phones offers different features and tools. Some of these smartphones cater to the senior community, while others are meant only for the technically savvy. They come at very different prices so be sure to check out the current price of each candidate to see if it fits your budget. You also will want to choose a carrier. The most popular mobile carriers are Verizon, AT&T, TracPhone, and StraightTalk.
When you're looking for the best cell phone for seniors, there are several considerations that you need to take into account. So, continue reading, and we'll walk you through everything you need to know.
Smartphone Features to Consider
When buying a mobile phone for a senior loved one, you don't necessarily want to get the fanciest and most technological phone available. Instead, you want to get a phone that's functional and that you'll be able to make the most of. Determine your price range and then you'll be ready to go on the hunt for the ideal phone.
Read each phone's description thoroughly, there may be key features you miss and only notice them missing when you buy the phone. List everything you need on a piece of paper and for each candidate, check it against the list of apps and features you need.
Apps - Does Your Phone Need A Lot Of Them?
If you are someone who's really into using different apps and is good with a computer, then feel free to get them a top of the line iPhone or Android phone. Apps are especially useful if you are interested in furthering their education. That's interesting, these days technology can help make life a lot easier and in the study, just use the service to write homework, even through your smartphone. However, if you are is just looking to make calls and send texts, you should definitely scale down.
Storage Space - Getting It Just Right
If you or a senior relative plans on using their phone a lot for a lot of different purposes, then make sure to get them a phone with plenty of storage space. The more apps, music, photos, and videos they put onto their phone, the more space they're going to need.
Some smartphones mainly rely on internal storage and even let you use a micro SD card for extra storage space. You can also set up a plan with the cloud to allow for even more available space.
Remember that a phone's use case can change as the user discovers more features, so if you're not sure whether you'll need the storage space or not, don't go for the lowest storage phones, give it some leeway.
Contracts Vs Prepaid Phones
You also want to consider contracts vs prepaid phones. A prepaid phone will give you a lot of freedom with what you can do with your phone and how you use it. These phones are also cheaper but they're not right for everyone.
Best Camera Characteristics
Also, for a lot of older adults, like pretty much everyone else, a good camera can sometimes be an essential feature. If you or your senior relative wants to take a ton of photos of their grandchildren, cruise vacations, and delicious recipes, they'll probably want a high-quality camera. Cell phone cameras have really advanced over the years, but there's still a significant gap between the top of the line phones and the more basic cell phones for seniors.
Other Smartphone Features and Tools
Lastly, it's best to look for a phone that was made with seniors in mind. This includes big buttons, one-touch emergency buttons, and photo address books.
Phones with large screens and hearing aid compatibilities are also usually a positive to look for.
Durability - Honorable Mention but Not Really a Feature
Durability is not really a feature, and it's not listed in any of your regular phone's description sheets (also called spec sheets). But for the elderly user it is definitely something to consider. If you can, ask around or search online for reviews on durability for the phone you picked as the ideal candidate.
You definitely do not want something that bends or breaks easily, or a smartphone that can't handle a drop from a couple of feet. Now that we know what to look for, let's go over some of the best phones for seniors.
1. RAZ Memory Cell Phone
Easy-to-use Picture Phone 
The RAZ Memory Cell Phone ensures that individuals with dementia or intellectual disabilities stay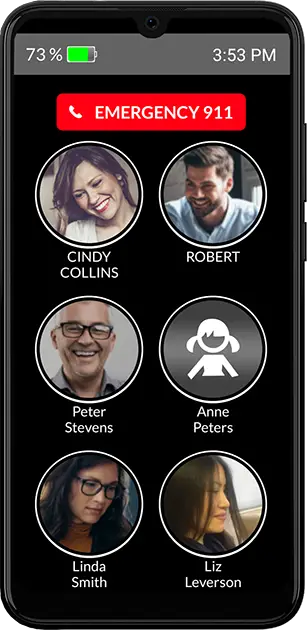 connected with their loved ones whether they are at home or away from home. Memory care needs are on the rise each year in the US.  About 40% of people aged 65 or older have age associated memory impairment—in the United States, about 16 million people.
Individuals with memory loss may not remember phone numbers or even names. Many of them are not open to new technology and don't remember how to use a smartphone or even basic cell phones and home phones. Many buttons, options and screens can create a fear of technology and confusion causing individuals with memory loss to stop calling and interacting with loved ones.
This phone is very simplistic and has only one screen on the phone. There are no settings, notifications, voicemail, applications or operating system updates, making it very easy to use.
The screen has pictures and names of up to six contacts (with the option for up to 24 contacts), a button for 911, Alternative RAZ Emergency Service to avoid unwanted 911 calls (requires subscription), time, battery power and signal strength. 
The home screen is always on and never locks or goes to sleep. When a call comes in there are two large buttons that come up, a green one that says "answer" and a red one that says "hang up." This phone is extra large and bright with a 6.3 inch display.
Caregivers can manage the phone through an online portal to edit contacts, track the phone or user, check the battery, and to select certain options. This phone can be used with AT&T, Verizon, T-Mobile, Consumer Cellular and other compatible providers.
2. Lively Smart
Simple, Easy, It Just Works!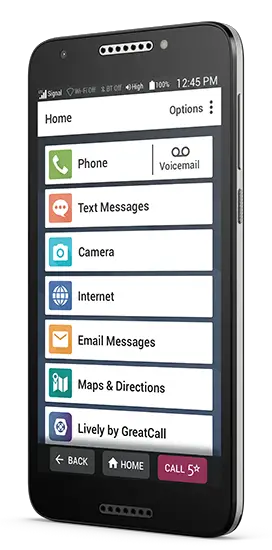 The Lively Smart is designed, first and foremost, to be a simple, affordable smartphone for seniors. However, that certainly does not mean that it lacks useful features.
While other smartphone companies spend time developing bells and whistles that the typical person will never use, a great deal of time was spent developing innovative features that make the Lively Smart easy to see and hear, simple to use and amazingly affordable.
For seniors looking for a phone that they can actually use, you'll find that the Lively Smart is the "smartest" choice.
The Lively Smart is made specifically for seniors. It's not overloaded with all of the newest "technology" and it's not difficult to use. The Lively Smart is designed to be easy to use from the moment you turn it on. Everything you want to do, from texting and taking pictures, to emailing and browsing the Internet, is organized in a single list on one screen with large, legible letters.
The Lively Smart has a super-loud speakerphone and amplified speaker to ensure that you are able to hear every word from your friends and family. Lively Smart even holds the highest available rating for compatibility with hearing aids (M4/T4).
3. Ushining Senior Cell Phone 
Great Screen and Usability at a Decent Price  
Ushining Seniors Cell Phone is an easy to use basic cell phone that applies the latest operating system, larger fonts, clearer menu icons, surprisingly high volume and high-definition loudspeakers, It has a built-in audio, video player, Bluetooth, External FM audio, calculators, alarm clocks, calendars, and it can store up to 100 phone book entries. It is equipped with a charging dock, which is very convenient for the elderly to charge the phone. 
You do not need a contract with any carriers to use this phone. It is compatible with AT&T and other prepaid or pay as you go SIM cards. This phone is also hearing aid compatible and has amplified speakerphone capabilities. This senior feature phone has an SOS button on the rear cover, setting 5 emergency contacts, allowing you immediately dialing to a preferred contact number in case of an emergency.
The battery has an extended life with 5-6 hours of talk time and up to 200 hours (8 days) of standby time. This means it needs to be charged less than other phones that need to charge daily to keep power.
4. iPhone XR
A Solid Contestant From Apple
Do you want only the best for yourself or a senior loved one? It's hard to do much better than the iPhone XR. It's one of the most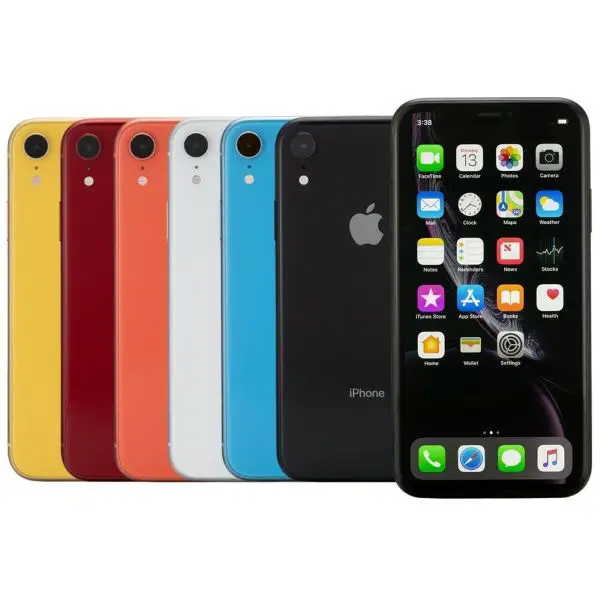 modern, sleekest phones around. 
The XR is also the most affordable of its series and is used as a bridge between the iPhone 8 and the latest iPhones. Affordability is especially for seniors who are trying to make sure that they're ready for retirement.
iPhones have been praised for years for being easy to use and of exceptional quality. Another reason to consider getting an iPhone is that they're extremely popular. If the user ever finds themself in a restaurant or friend's house without a charger, there's a good chance that someone else's iPhone charger isn't far away.
If you use an iPad, then they can seamlessly integrate between their Apple devices too.
This iPhone model comes with a 6.1-inch touchscreen display and uses the latest operating system available. It also comes with a powerful 12 MP rear-facing camera.
Another great feature of the iPhone XR is that it comes in a variety of color options. It's certainly one of the least dull smartphones around. And by making your phone a bright red or vibrant yellow, it will be easier to find when it slips through a crease in the couch or under a chair.
5. Samsung Galaxy S10e
The Classic, But Better 
Samsung's One User Interface is an easy-to-view operating system which can be great for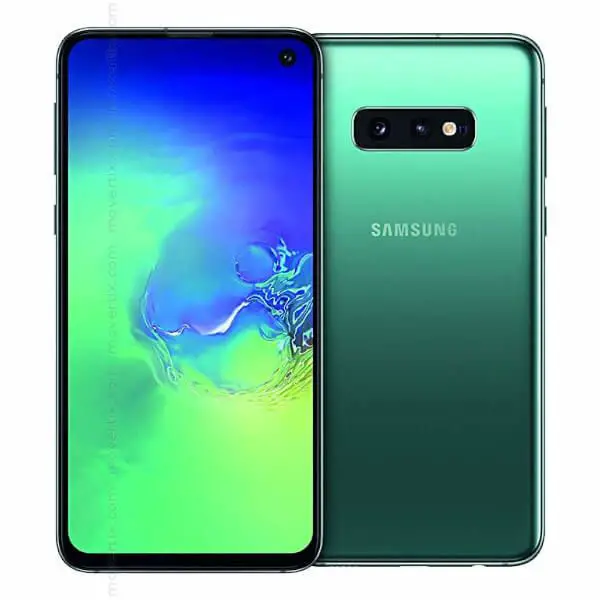 seniors. Among Samsung Galaxies S10 phones, the S10e is the most affordable option and still comes with helpful features.
The phone's touchscreen is big at 5.8 inches, yet it's still small enough to fit in a pocket or in one hand. This model is also equipped with a fingerprint sensor on the side of the phone that makes it easier to use than the in-screen sensors.
You can also plug wired headphones into the 3.5mm headphone jack. And the battery should last the user throughout the day.
The phone also uses the Snapdragon 855 processor, which means its extremely responsive and fast.
6. Motorola Moto e⁴ Plus
The Trusty Motorola We All Remember
Motorola designed the Moto e⁴ Plus to be simple yet powerful. This makes it great
for seniors or older adults who are looking to send text messages, browse the internet, and take photos.
This phone has one of the biggest batteries around. When you charge it to full capacities, it can last you up to two days.
The big HD touchscreen display comes in at 5.5 inches and makes it easy to see emails, photos, text messages, and news articles. You can also get the display exterior in different colors, including gold, gray, and black.
The fingerprint sensor lets you log in even if you've forgotten your password. Also, the camera comes with a 13 MP autofocus camera, making it even more impressive than the iPhone XR. It also comes with a front-facing 5 MP camera that you can use for taking selfies or video chatting with friends and family.
7. Samsung Galaxy Note9
A High-Tech Cell Phone For The Tech-savvy Senior
The Samsung Galaxy Note9, like the iPhone, is a very high-tech and sought after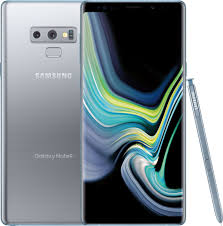 smartphone. What makes this particular cell phone so useful to older adults is that you can use it in very simple ways while still keeping all of its power.
It's perfect for any tech-savvy seniors but it's even good for seniors who aren't as comfortable with the latest technology.
The battery on this phone will last you all day on a single, full charge. It's great for people who are always out and about or who forget to charge their phones frequently. Just plug it in at night, and then use it throughout the day without worrying.
With a touchscreen display that comes in at 6.4 inches, the Galaxy Note9 has the largest display of any Samsung phone. Seniors with poor eyesight will love the big screen and large text.
Another cool feature is that it comes with an S-Pen option. If you want, you can use your fingers to navigate the phone. However, this phone also comes with a chargeable stylus, known as the S-Pen.
This makes using your phone even more manageable, and it allows you to write notes too! You will soon be writing your grocery or shopping list and storing it in your phone in no time.
8. Unnecto Air Senior Phone
A Smartphone With A Purpose
As the name implies, this smartphone is meant specifically for seniors. First off, you can get either a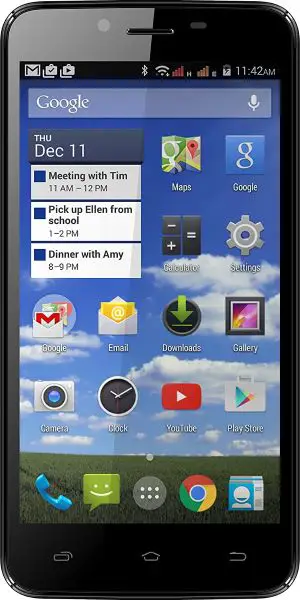 4.5-inch or 5.5-inch version. Also, it's worth mentioning that everything in this phone has been simplified to make it as easy and functional as possible.
You get large, long-touch buttons and icons. A long-touch button is one that you have to press longer than normal in order to ensure that the button you touch is the one you meant to select. This is especially useful in critical situations such as a health emergency) where you can't let the phone interpret a light touch or accidental swipe as something that wasn't intended.
There's also a Family Member SOS option. You can program the smartphone so that it will quickly call a specific contact. All you have to do is press and hold down on a specific button and the Family Member SOS option will be activated.
Lastly, the phone comes with an optional but useful feature known as GEO fencing. With this feature, you can set a certain GPS area (for example, around your retirement community). The phone will then notify an emergency contact if the phone leaves or enters that area.
This is a great way to keep tabs on seniors who might wander off or get lost. This could be a great solution for a loved one who has been diagnosed with memory care issues or dementia.
9. ZenFone 3 Zoom
For the Photo Enthusiasts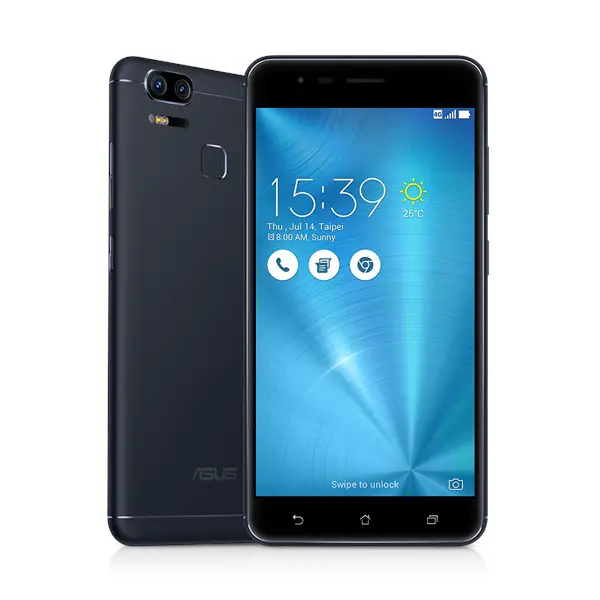 If you have a passion for photography, the ZenFone 3 Zoom may be just what they need. This cell phone does come with more bells and whistles than other senior-minded phones, but you can also program it to be more simplistic.
The camera on this phone is actually able to switch between two different lenses in order to take the most high-quality photos. All you have to do is press a button.
The wide lens is best for low-light environments while the optical zoom lens works best when taking close-up shots from far away. A phone like this is great for a senior who likes to take a lot of vacations.
The battery can also last up to two days on a single charge. And even more impressive, it can go from low battery to full in just one ten-minute charge!
10.  Alcatel GO FLIP 3
There are a lot of phone choices with good features but for those who want a flip phone with updated features take a look at, the Alcatel GO FLIP 3. It has the flip phone size with technical features that people want like mobile hotspot, email and Google Assistant. It has an easy menu, large buttons and a perceptive design. 
This phone is available through T-Mobile and they also provide competitive senior plans for those 55 and older. That makes this phone even more affordable. This phone does have a camera that is easy to use however, it's not the best camera.  It's certainly good enough for everyday pictures but it's not going to produce a high-quality photo. 

Pros
Affordable flip phone
Good display capability for a flip phone 
Ready to use Google Assistant
Large keypad display
M4/T4 hearing aid compatibility
Bluetooth compatible
Mobile hotspot
Cons
Low-end 2MP camera
Battery life of only 7.9 hours
No built-in flashlight

All in all, the Alcatel GO FLIP 3 phone is great for seniors and older adults who are looking for simplicity.  Those who mostly text and use for phone calls and want a phone $100 or less.
What is 5G?
5G is the fifth-generation cellular network. The network will use higher-frequency radio waves in addition to the range of frequencies already used, and will work with smaller, more closely distributed wireless access points instead of large, dispersed cell towers. Also, 5G is supposed to be up to 1000 times faster than it's predecessor 4G.
Some benefits of 5G are:
Low Latency
Latency measures how long a signal takes to go from its source to its receiver, and then back again
Speed Upgrades
Each wireless network generation has reflected a significant increase in speed, and the benefits of 5G
Increased Bandwidth
The combination of increased speed and network capacity on 5G networks will create the potential for larger amounts of data to be transmitted than was possible with 4G
Availability and Coverage
While consumers and businesses are eager to experience the benefits of 5G for themselves, availability of 5G coverage is still limited
FAQ SENIOR CELL PHONES
Are there senior discounts from cell phone companies?

Some companies such as T Mobile, Verizon and Consumer Cellular do offer senior discounted plans.  Comparing those plans is a good idea to make sure you are getting the most efficient plan that works for you.  If you are an AARP member, it's good to mention to see if a discount will apply.  The same goes for AAA members, always check if there is any additional discount for being a member.
At what age can I buy a senior cell phone?

You actually can purchase these phones at any age! However, to receive senior discounts on your service you may need to be 50 plus, 55 plus or 65 plus depending on the carrier. 
What are important safety features that senior cell phones provide?

One of the best safety features for seniors is the SOS Emergency button.  This will connect you to emergency services in your area at the press of a button. Other phones like the Lively (Jitterbug) can connect you to urgent care from a nurse or doctor 24 hrs. a day.  Memory phones like the RAZ phone can assist with those at risk of getting lost. 
What makes senior specific cell phones different from ordinary cell phones?

Many of these phones keep it simple.  They have controls that are easy to read, they take into consideration things like mobility and eyesight.  Many phones and most especially the RAZ Memory Cell Phone phone takes cognitive difficulties very seriously. Caregivers/Family members can manage the RAZ Memory Cell Phone through an online portal. This is used to create and edit contacts, track the location of the phone/family member, check the phone's battery power or signal strength, and select certain options to disable the power button or restrict incoming calls to contacts, preventing unwanted spam calls.
Which of the Best Cell Phones for Seniors Will You Get?
As we can see, there are a lot of options when looking for the best cell phones for seniors. Because of this, it's so important that you take all of the features of the phone you want into consideration. Hopefully this article helped you with research and getting to know the ins and outs of what the best cell phone would be for you or an older adult in your life. If you're still looking for something else check out these basic cell phones for seniors  or medical alert systems for more options.
Are you trying to figure out the right housing option for you or a loved one? If so, then visit us today and see what our directory of communities can do for you!