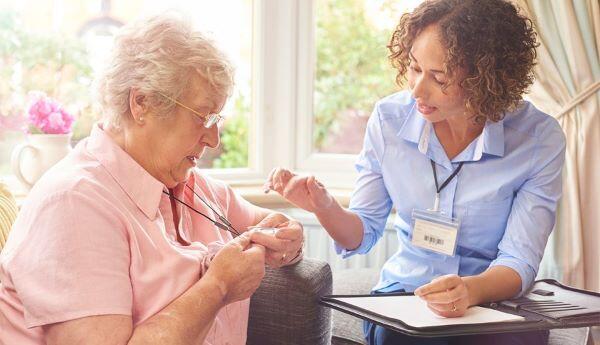 6 Medical Alert Systems for Seniors
Friday, February 19, 2021
Medical alert systems are something that may need to be considered at some point in someone's life. Elderly individuals may be living independently but need some extra emergency support. Medical alert bracelets, home systems, and on-the-go systems are just some of the options available to seniors. Some seniors can be forgetful with taking daily medications, or might have a serious fall and be needing some help, these medical alert systems for seniors can help them get assistance easily and quickly.
What is the best medical alert for seniors?
We go over the differences and prices and features of medical alert systems. Keep reading below for more information on medical alert systems for seniors.
1. LifeFone
The At-Home & On-the-Go GPS system is LifeFone's complete system for in and out of the house. It includes a base station and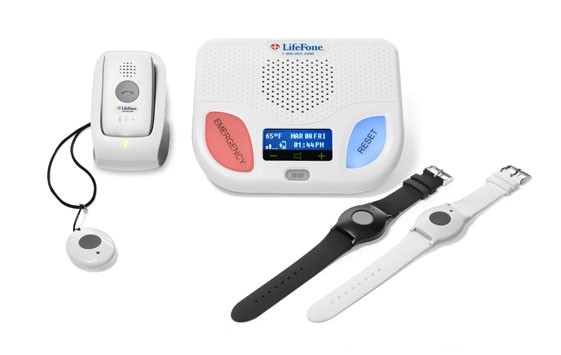 mobile device, two wrist bands, and an option fall prevention waterproof pendant that can be worn in the shower. It uses AT&T coverage but you don't need a cell phone or landline to use it. The service plan can be paid annually, quarterly or monthly and the plan price starts at $33.87 per month with free shipping and a free lock box.
How does it work?
Press the personal help button on your pendant, medical alert bracelet or wall-mounted help button. A signal is sent to a small base unit in your home, and then to the LifeFone monitoring station.
LifeFone's "On The Go" Service includes a small mobile device that provides GPS services to locate you in case of an emergency away from home. When you press your help button, the mobile device contacts the LifeFone monitoring station, and notifies LifeFone of your location.
LifeFone's Fall Detection Service includes a pendant which can summon help for you automatically in case of a fall. The Fall Detection Pendant will connect to either the LifeFone base unit or mobile device, which will contact the LifeFone monitoring station for you.
Discount Available: 1 month free and free shipping on annual or quarterly plans, use promo code CARE21 during checkout
2. Medical Care Alert
Our Medical Alert Systems let seniors get help at the touch of a button, 24/7/365. When you press your medical alert button, the system immediately contacts our US-based monitoring center. Within moments you'll speak with a trained EMT/EMD-Certified operator ready to help...24 hours a day, 7 days a week. We know WHO and WHERE you are, and who to contact to get you help fast. And, because no one likes to be alone in an emergency, we can stay on the line with you until help arrives.
How Does It Work?
Once connected, our EMT/EMD-Certified agents will answer the call, with your Personal Profile already on their computer screen. They know who you are, and where you are located.
The operator will speak to you over the 2-way voice console and ask if you need help. You'll tell us what you need and we'll take it from there, contacting a neighbor or family member, or alert Life Safety EMS emergency services if required.
We then contact the people on your emergency list including neighbors, family members, loved ones, care givers, or anyone you designate.

In an emergency, we send SMS Text messages to your contacts with cell phones, in addition to calling them. This provides the fastest way to notify your family and caregivers of the situation. And they can reply to the text messages, letting our monitoring center know they are on the way, request to cancel the dispatch, or provide any updates.
3. Lively 
Get help from certified Urgent Response Agents at the touch of a button. With one touch, you'll be connected to Agents who are certified by the International Academies of Emergency Dispatch. Whether it's contacting emergency services because you're experiencing a medical issue or a locksmith because you lost your house keys, we're always ready to help.
Urgent Response is available on all Lively products when you choose any Lively Health & Safety Package. Here are some of their products:
Lively Smart- The Lively Smart helps you stay connected, safe and healthy. With its easy-to-navigate menu, voice typing and video chat, you'll enjoy staying connected to friends and family with the Lively Smart. In emergencies big or small, just press the Urgent Response button and a certified Urgent Response Agent will get you the help you need. You can also speak to a board-certified doctor or registered nurse, enjoy affordable car service and much more.
Lively Flip- The easy-to-use Lively Flip from the makers of Jitterbug has big buttons, a large screen and a powerful speaker, so you'll enjoy staying connected to family and friends. With the Urgent Response button right on the keypad, you have access to the Lively Response Team, so you can get the help you need in emergencies big or small. You can also speak to a board-certified doctor or registered nurse anytime, day or night.
Lively Mobile+- The Lively™ Mobile Plus has the fastest call response time and can get you help in emergencies big or small. This completely mobile all-in-one medical alert needs no additional equipment or base station, so you can go anywhere with it and reach our certified Urgent Response Agents anytime.
Lively Wearable2-  Lively Wearable2 gives you access to Lively's Health and Safety Services through the Lively app on your smartphone. A press of the button connects your smartphone to Lively Urgent Response, and when you wear it around your neck on our specially designed lanyard, it can detect falls and will automatically call for help, even if you're unable to press the button.
4. MobileHelp
MobileHelp is a provider in Mobile-Personal Emergency Response System technology. MobileHelp has many different items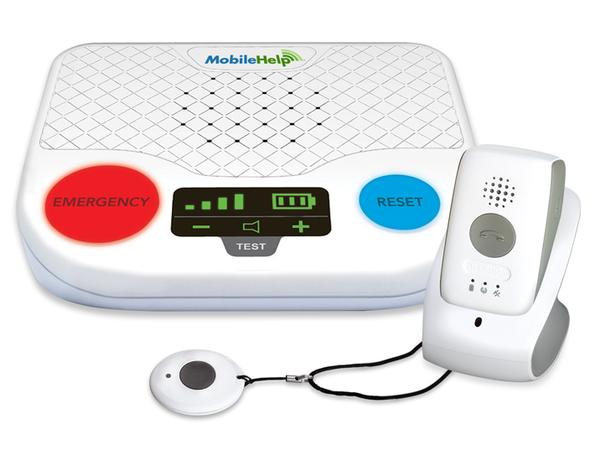 including GPS technology, emergency alert systems and fall monitors. Their service is available in all 50 states. Their product, MobileHelp Duo is a complete protection package that includes an in-home base unit, a mobile unit for when you're away from the home and one waterproof help button that can be worn in the shower and provides easy access to summoning help. MobileHelp Duo uses AT&T services but does not require a contract or landline in order to work. This is shipped for free and includes a free lock box for a key to your home to allow for easy access in case of an emergency. The service fee can be paid annually, semi-annual, quarterly or monthly and starts at $36.95 per month.
How does it work?
Press the pendant or portable emergency button. Your information and location is sent to the MobileHelp response center. The two way speaker allows for communication between the associate and senior to assess the situation. The associate then contacts a family member, neighbor, or friend based on what is happening. 
Discount Available: For $75 off your annual plan, enter promo code CD75OFF during checkout.
5. IAmFine
Many want to stay in their homes as long as possible without being a burden to their family. This is known as aging-in-place  and IAmFine helps achieve this. 
By bringing family, friends, or neighbors into a coordinated care team circle, IAmFine helps keep a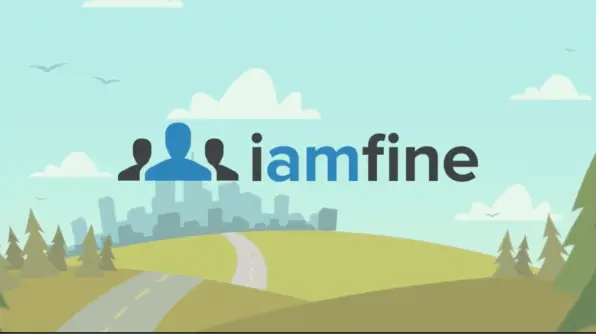 watchful eye on those that live alone. IAmFine is a low-cost service to help you age in place thereby maintaining comfort, familiarity, and your independence. There is no extra device to purchase, you can use your already existing landline or cell phone.  You can try it free for two weeks.
How does it work?
For a monthly service fee of $14.99, you will choose how many times you want the automated service to call a day, once or twice. You can choose the days and times you want to receive the call, along with an optional custom message. IAmFine will then call during the specified days and times and give a message such as "Hello Bob, this is IAmFine, please press 1 to check in." After that you can hang up or stay on the call to request your family member to give you a call. You can invite up to 8 people to your circle and they will decide how they wish to be contacted (email, text, or call). The circle member can choose if they want to be contacted each time their loved one checks in or just when they miss their scheduled call. If you miss a scheduled call, IAmFine will call a total of 4 times and if the call is missed 4 times then all circle members will be contacted. 
6. Aloe Care Health
Aloe Care Health is a company that has more technology based medical alert systems for seniors and has medical alert systems for seniors with fall detection . There are three packages offered called "Essentials," "Essentials Plus," and "Total Care."  The Total Care option has a "Smart Hub" with voice-activated access to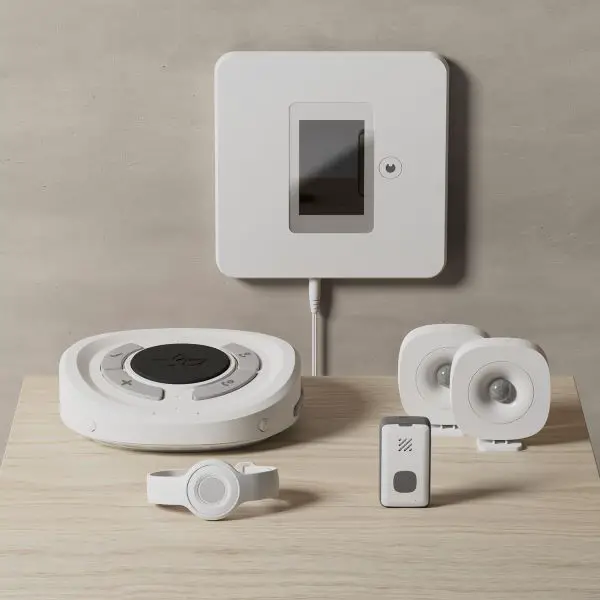 24/7 professional emergency response - built-in motion, temperature, and air quality sensors. Automatic fall detection (bathroom) and additional sensors for the home. Plus, the 4G LTE Mobile Companion for on-the-go safety. Their family app ties it all together, keeping remote caregivers connected. WiFi is required for this system, however it offers more safety since it can detect the air quality, such as carbon monoxide, and temperature changes. Caregivers will need to download the Aloe Care Health app to their phones to pair the alert system and keep everyone connected. They recommend five people in your circle, however, there is no limit. You must pay for the hardware with a one time fee of $299.99 and then the monthly service fee of $49.99. This service can be cancelled at anytime and there is no long term contract.
How does it work?
The Mobile Companion uses an internal accelerometer to measure abrupt changes in movement and impact to trigger a fall.*
In the event of a fall, the Mobile Companion will ask for a confirmation before calling the Aloe Care Response Team to triage the emergency. If confirmed, the system will notify caregivers through the Aloe Care mobile app.
In the event of an older adult requiring assistance from a professional personal emergency response agent -- the 2-way call with an agent through the Smart Hub can be established by the older adult in two ways. The first way is to press the black button on the Smart Hub and this will transfer you to the Aloe Care Assistance Agent. The second way is to say the word "emergency!" repeatedly out loud. The system will ask "we think you said you have an emergency" and you should say "yes" or continue to say "emergency" until the response team is activated.
What is the top rated medical alert system?
Aloe Care Health
Mobile Help
LifeFone
Are medical alert bracelets covered by insurance?
Some insurance companies may cover medical alert bracelets. It is best to contact your insurance company and see what their coverage is. If it is covered, check to see if you can choose which system you want or if there are pre-selected choices to choose from.
Is medical alert covered by Medicare?
Medicare will not cover medical alert systems, however Medicaid and Medicare Advantage may help cover these systems. You can always try to call the companies directly and see if they are offering any discounts as well. 
Are medical alert systems worth it?
As you can see there are many different types of life alert for seniors. Some are more high tech and required WiFi in order to work and some are as simple as a phone call. Most companies have medical alert bracelets that can be worn for easy access in case of an emergency. So, which is the best medical alert system for you or your family member? Whichever one brings peace of mind and safety to you and your family.