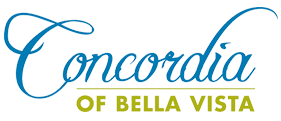 Concordia of Bella Vista is a pleasing assisted living community in Bella Vista, Arkansas. It is within appealing Benton County which is part of the Natural State.
As a trusted senior living landmark in northwest Arkansas for nearly 40 years, Concordia Retirement Center in Bella Vista, AR, is deeply committed to providing an enjoyable, fruitful and fulfilling lifestyle.
Located on 28 beautiful acres of rolling woodlands, Concordia offers a full range of social activities and helpful services in a secure, attentive, homelike atmosphere. 
We are blessed to serve a special group of residents. Our independent living residents joyfully pursue their personal interests in an active community, since they no longer worry about cooking, chores or the other responsibilities of home ownership. Our assisted living residents stay active in a safe environment, since they receive support with grooming, medications, and round-the-clock access to a caring staff. And their families enjoy newfound peace of mind—often for the first time in years—since their loved ones are in good hands.
Would you pursue your hobbies and service opportunities more joyfully if home maintenance took less time and effort? Would you host friends more often if you didn't have to cook and clean? Would you travel more freely if you weren't concerned about the lawn?
Since our residents no longer worry about these daily responsibilities, they are free to join their friends for meals and activities. They start bridge clubs, go on walks together, and take outings to musicals, church and sporting events. They invite their families for meals or holidays. They help to lead Bible studies. At Concordia, residents enjoy a fruitful, active new way of life.
At Concordia in our Catered building, we offer peace of mind while your loved one enjoys a number of services and amenities:
• A comfortable home-like setting in a private apartment.
• Three home-cooked meals daily in our well-appointed dining room.
• Regular assistance with bathing, grooming, dressing, housekeeping and laundry.
• Management of medication.
• Transportation to doctors' appointments, worship services, and more.
• Skilled nursing care if needed.
Whatever their daily need, our attentive hospitality staff is dedicated to your loved one's security and comfort. For family members, assisted living means no more worries.
For your loved one, assisted living means no more hassles with cooking meals, cleaning house, cutting grass, scheduling doctors' appointments and more.
Our residents enjoy safe, comfortable, spacious apartments without concerning themselves with repairs and upkeep. Instead, they can spend time talking with friends over meals, participating in social outings or events, or visiting with their grandchildren in our tastefully decorated common areas.
Secure Facilities and Beautiful Grounds
• Spacious apartments and townhomes with studio, one- or two-bedroom options, plus choice of den and porch.
• Safe, private bathrooms, with sit-down showers.
• Utilities included in monthly fee (except for cable).
• 24-hour monitored emergency call system, for your safety.
• Fire safety system with smoke detectors and sprinkler.
• Casually elegant dining room offering healthy, home-cooked meals.
• Fitness center where residents can stay fit and healthy.
• Library to relax with a favorite book or newspaper.
• Large multipurpose rooms for activities and games.
• Religious services are held on campus.
• Garden plots for outdoor enjoyment.
• Large-screen TV for watching TV, sporting events or the news.
• Cozy gathering areas to socialize with friends and guests.
• Private dining room for parties and special occasions.
Our events calendar might remind you of a cruise ship, with activities galore planned throughout the day. Our activities staff is directly involved in making these social opportunities rewarding and enjoyable for each resident.
Exciting Activities
• Dances and theme parties.
• Exercise classes and fitness programs.
• Bible study groups and worship services.
• Live musical entertainment.
• Bingo, cards, board games and crafts.
• Staff-led outings aboard our 24-passenger bus to musicals and plays, sporting events, a drive through the mountains.
You can stop worrying about cleaning, home maintenance and—in our assisted living buildings—meals and medications. Every service is carefully designed to meet the individual needs of our residents, so that you can enjoy a comfortable, worry-free lifestyle.
Concordia Retirement Center has set the standard for senior housing and retirement services in northwest Arkansas.
+ Read more
Full Screen Gallery