St. George Village
Roswell, GA - Assisted Living, Nursing Home, Independent Living, CCRC
Located on 20 beautifully landscaped acres in historic Roswell, Ga., St. George Village offers an energetic, carefree and independent retirement lifestyle, enhanced by an unrivaled slate of first-class amenities, activities and cultural offerings. Owned by Catholic Continuing Care Retirement Communities, Inc. and managed by Wesley Woods Senior Living, Inc., which is affiliated with world-renowned Emory Healthcare, we maintain a longstanding tradition of excellence that extends far beyond our local community.
Every aspect of St. George Village — from our elegantly appointed residences, fine and casual dining rooms and well-equipped fitness center to our wide array of educational, travel and social activities — has been meticulously designed for the enjoyment and comfort of our residents.
And, as a Life Plan Community, St. George Village provides a secure, worry-free future through guaranteed access to its healthcare communities, if and when needed.
See More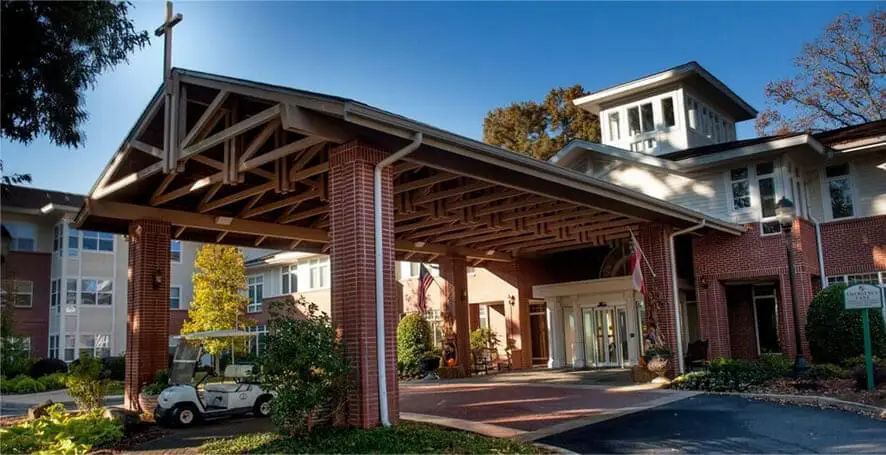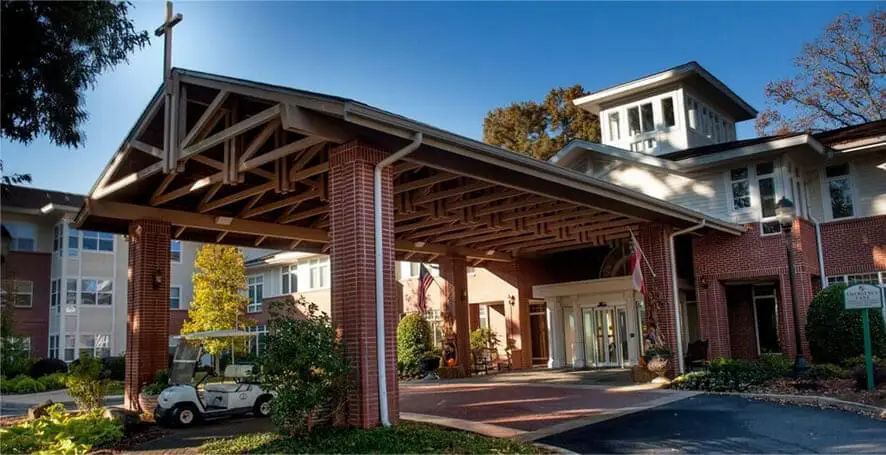 Additional Media
Videos
Video Transcript
Title: Catholic Retirement Community | St. George Village, Atlanta
Time: 1 min 59 sec

Description:

Visit to determine how a Catholic retirement community will help you or even your close friend. A Catholic retirement community delivers a broad arrange of extended clinical plans that you can benefit from as you or your spouse grow older. From skilled care, to memory care, to life care, a Catholic retirement community provides an array of care plans so you are not only are skillfully cared for, but get the finest level of treatment as well. A Catholic retirement community has the benefit of the lifestyle of keeping yourself physically active, going places and doing things as you age. A Catholic retirement community is created to take the burden of maintaining a house that enables you to be involved and enjoy your life to the fullest. Residents can go to common outings, participate in physical fitness programs, be involved in community town hall meetings, or have their relatives and buddies over for lunch. Most communities even have full time transportation to doctor visits and in many cases the corner shop if needed. A Catholic retirement community is a perfect place to retire and also be taken care of through-out your life.

Transcript:

at st. George village you'll find our entire staff is completely dedicated to making a real difference in the lives of our residents and their families that difference equates to an enhanced quality of life here you'll experience comfort security and a family atmosphere the vast array of services and amenities at st. George village leave you free to embrace and enjoy life our restaurant style dining 24-hour security housekeeping landscaping home maintenance and scheduled transportation all add up to a quality lifestyle and full freedom for you to do what you want when you want areas such as our formal living room with a fireplace well-stocked library business center beauty and barber salon are just a few of the on-site amenities to make your life easier our main dining room features a fine dining experience six nights a week and a sensational champagne brunch on Sunday while our Bistro offers a casual environment for breakfast lunch or dinner and then there's Roswell one of Georgia's finest cities with nearby attractions like northpoint mall and downtown Roswell will be sure to find a myriad of fine dining entertaining and shopping and with many of George's finest golf courses only a few minutes away a tee time is never hard to find you

Video Transcript
Title: St. George Village, Atlanta | Atlanta CCRC Community
Time: 1 min 32 sec

Description:

Visit to see just how St. George Village can help you or maybe spouse. St. George Village provides a extensive arrange of extended medical care choices that you might benefit from as you or perhaps loved one mature. From skilled care, to memory care, to life care, St. George Village provides an array of care choices so that you are not only are adequately taken care of, but receive the best level of attention as well. St. George Village has the benefit of the life-style of keeping yourself active, going places and doing things as you age. St. George Village was created to take the burden of caring for a household so that you can be involved and enjoy everyday living to the fullest. Residents can go to daily outings, enroll in workout classes, be involved in community town hall meetings, or have their family and friends over for dinner. A large number of communities will have full time transport to doctor visits and in many cases the supermarket if needed. St. George Village is a wonderful place to retire and be cared for the rest of your life.

Transcript:

centrally located in beautiful roswell georgia st. george village is transforming the meaning of retirement living on the campus of st. peter's chanel catholic church st. george village offers its residents the opportunity to invigorate their mind body and soul here you'll find friendly neighbors and a staff who quickly come to feel like family I'm Ken Weber president of Wesley would senior living we're committed to providing senior living options that embrace Christian values and st. George village is no exception st. George villages independent living and quality life care service provide our residents with a carefree lifestyle at an exceptional value with boundless opportunities for social recreational and cultural enrichment st. George village is a great place for seniors to call home

Video Transcript
Title: Continuing Care Retirement Communities | St. George Village
Time: 2 min 1 sec

Description:

Visit to get familiar with just how continuing care retirement communities just might help you or even your family. continuing care retirement communities are designed with a vast arrange of continued health care programs that one could take advantage of as you or even your loved one mature. From skilled care, to memory care, to life care, continuing care retirement communities have an selection of care selections so you are not only are perfectly looked after, but get the utmost amount of proper care as well. Continuing care retirement communities have the benefit of the style of living of remaining lively, going places and doing things as you age. Continuing care retirement communities are created to take the burden of caring for a home so that you could be active and enjoy everyday living to the fullest. Residents can go to common excursions, sign up for exercise classes, take part in community townhall meetings, or have their friends over for lunch. Almost all communities even have full time transportation to visits to the doctor and also the supermarket if needed. Continuing care retirement communities are an outstanding place to retire and also be taken care of for the remainder of your life.

Transcript:

with over 20,000 square feet of space dedicated to supporting our residents every desire at st. George village you will always find something to keep you entertained there are so many activities in and around st. George you don't have to sit in your room and look out the window and that wondering what's going on you can get out and do something our arts and crafts to do game room and busy activity schedule including trips to the theatre museums and everything in between ensure your day is always filled with fun endeavors they have wonderful trips that we take that we are able to partake if you want to if you don't you don't have to go but I don't seem to miss the bus whenever they're going somewhere so I thoroughly enjoy living here if you're in the mood to get outdoors take a stroll on our walking trail around our gorgeous Lake practice your putting on our well-maintained putting green or reserve your private spot in one of our abundant Gardens where residents grow a variety of flowers plants and vegetables with an on-site licensed physical therapist you have the help you need to create a personalized wellness program you can even join our scheduled exercise classes at our state-of-the-art fitness center and indoor aquatic center which includes a heated pool and spa you

Roswell Senior Living Near Me