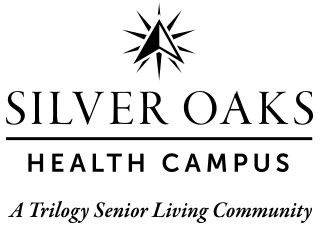 Welcome to comfortable and easy living at Silver Oaks Health Campus. Situated near Parkside, our sophisticated senior living community in Columbus, IN, offers beautiful accommodations in a warm and welcoming setting. With plenty of gorgeous, green fields, our historic city features a wide array of amenities, including restaurants, shopping, and beautiful parks and outdoor spaces. Our community also offers easy access to local health care providers, including Columbus Internal Medicine Associates and Columbus Regional Health. At Silver Oaks Health Campus you can savor a hot, chef-prepared meal in our upscale dining room, relax in your cozy and private room, and rely on our team to provide you with compassionate care. Whether you're looking for Assisted Living, Skilled Nursing, or even Short-Term Care services, Silver Oaks Health Campus is here to serve you.
You can trust the professionals at Silver Oaks Health Campus to provide you with top-tier healthcare every day. When you call our Columbus, IN, senior living community home, you can choose the level of care that best suits your specific needs. Our Assisted Living suites are a wonderful option for folks who need some help with personal care and daily tasks. If you are searching for Memory Care or Skilled Nursing services for a loved one, we have suites designed to meet these needs, too. Whatever level of care you choose, you will receive specialized, professional, and caring assistance from our highly trained team.
In addition to Long-Term Care options, we offer an array of flexible stays at Silver Oaks Health Campus. If you have recently been through a major life event, you can also take advantage of our Short-Term Rehabilitation program, through which we tailor a care plan to your specific circumstances. Whether you are in need of Physical Therapy, Occupational Therapy, or Speech-Language Pathology, we will help you hone and regain your skills. We're also proud to offer caregivers extra support through our Adult Day and Respite programs.
Make the most of your daily routine with the help of the Signature Programs at Silver Oaks Health Campus. We offer an array of entertaining and engaging classes, activities, and outings so you'll be sure to find something that appeals to your interests. Three times a week, you can take advantage of our Vitality courses, in which you can follow gentle, guided movements to strengthen your body and improve your range of motion. If you want to get creative, check out our Artisans or Music To My Ears classes. We also host Out and About outings twice a week where we visit local landmarks like Fair Oaks Mall, Harlequin Theatre, and Clifty Park and everyone is welcome to join.
At Silver Oaks Health Campus, we believe that eating well is the best way to tend to your health and wellbeing. In keeping with that belief, we are proud to offer delicious, restaurant-inspired meals three times a day in our stylish dining room. From beautifully prepared steak dishes to home-cooked casseroles, our chefs create tasty and filling meals you're sure to love.
With the right amount of support, you'll find that life becomes so much more enjoyable. Our staff at Silver Oaks Health Campus is here to help you with whatever you need, from the moment you enter our doors.
+ Read more
Full Screen Gallery