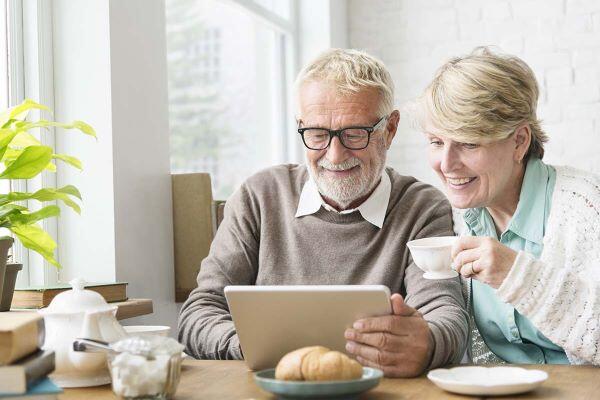 Advantages of Online Presence for Senior Living Communities
Thursday, April 8, 2021
For the next 20 or so years, about 10,000 baby boomers turn 65 years old each day. They're trying to stay very active and healthy to stay independent for as long as possible, but they might be looking for senior living communities for their parents to move into. They may also be looking to plan for themselves for their later years and looking for communities they might enjoy living at. Older Gen Xers are getting to be in their 50s and may be planning for their baby boomer parents living situations.
Boomers and Gen Xers are very connected these days. They are on social media such as Facebook, Twitter, and LinkedIn. They use smartphones, laptops, and tablets daily. They make purchases online and do research for those purchases. One of the biggest and most important purchases they will make in this stage in their lives, is choosing the right senior living community for them. With the ability to research anything, it's extremely important to have up to date and helpful information about your senior living community available for Boomers and Gen Xers to easily view.
People Like to Instantly Find What They're Looking For
When people want to research something, they like to instantly find what they are looking for. With thousands of senior living facilities around the United States, it can be easy to look past a community if they don't have information about their community readily available. It's very important for communities to list details about their community on multiple websites. Some people will search for communities in their area through Google and view all the listings on that page. Facebook is another place that gathers a lot of views since over 70% of Boomers are on Facebook. Another way communities get a lot of views is through an online directory such as FindContinuingCare.com. Here, seniors can search for communities and services all in one place and contact communities directly through their links on their premier listings.
Seniors Can Virtually Tour the Community
Setting up a virtual tour online of your community is a huge attraction for people looking at senior living communities online. Having bright, clear, and big pictures of all areas in the community is very appealing for those doing their research and comparing multiple communities. Show what you have to offer, pictures of common areas, different apartment options, the outdoor grounds, and any other amenities you have that will impress prospective residents. You can also invest in some virtual tours via recorded videos and list them online so seniors and their families can get a real sense of what the community is like. Another option is to do a 3D tour model that allows the person to click around the rooms in the 3D model online and do a "walk through." You want to make the person feel as though they can picture themselves living in this community and feel excited to do so.
You Can Give Them Most of the Info They Need
Having your community listed online on multiple sites will give seniors most of the information they need. You can control what kind of information is out there about your senior living community. If there is certain information you wish not to disclose online and there's something you would rather speak to the prospective residents about verbally or in person, you can request them to contact you for more information. Having these ways of contacting you directly will make it easy for the resident to get in touch to get the information they are looking for.