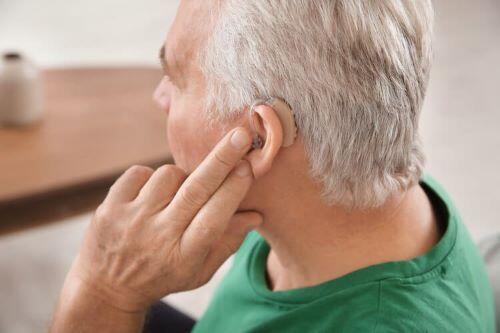 Best Hearing Aids in 2023
Tuesday, February 14, 2023
Living with hearing loss is a very common problem in aging people which can be caused by noise, disease, and heredity. Many seniors with hearing loss may find it hard to have conversations with friends and family, understanding advice from their doctors, responding to warnings, and hearing doorbells and alarms. This can present a significant safety issue, which is why it is important to get help with hearing loss. 
What Are the Different Types of Hearing Loss?
One in five Americans have hearing loss. There are three types of hearing loss:
Conductive Hearing Loss- this refers to hearing loss that arises because sound cannot get through the outer or middle ear. This type of hearing loss can be caused by fluid, earwax or an infection in the ear. It is often temporary and can sometimes be treated with medicine or surgery.
 
Sensorineural Hearing Loss- this type of hearing loss comes from issues with the inner ear. This type of hearing loss is usually permanent. Age, noise and genetics are common reasons for sensorineural hearing loss.
Mixed Hearing Loss- this type of hearing loss is a combination of the two other types of hearing loss, conductive as well as sensorineural.
What Are The Different Types of Hearing Aids?
There are three main types of hearing aids:
Behind the ear (BTE)
Receiver in canal (RIC)
In the ear (ITE)
The type of hearing aid you will use will depend on what kind of hearing loss you have and the severity of it.
Best Hearing Aids
We came up with a list of the best hearing aids 2021 for seniors. All of these range from simple to "smart" hearing aids that can be customized using a smartphone or tablet. We have broken down the price range, what type of hearing loss they help with and where to purchase them for easy reference.
Lexie Hearing 
At Lexie Hearing they have included all the accessories you need including batteries, domes, tubes, and drying capsules. On the monthly payment plan, they will send you a Care Kit with additional accessories and batteries delivered regularly to your door.
It's easy to control your Lexie hearing aids from the Lexie App. Activate Bluetooth on your smartphone and your hearing aids will automatically connect so that you can change the volume and settings to suit your needs.
Hearing aids are expensive products that are susceptible to moisture and lifestyle damage. That's why your subscription includes Lexie Cover which is risk insurance for breakages and losses.
Hearing Loss Severity: Mild to Profound
Price Range: $799 (per pair)
Where to Purchase: Online 
MDHearingAid 
MDHearingAid has four different kinds of hearing aids they offer, the PRO, AIR, VOLT+, and CORE. Each of these hearing aids has their own specifications ranging from simple analog to personalized hearing using a smartphone. If you're wondering if you need hearing aids, MDHearingAid offers a free online hearing test. They also offer payment plans for their hearing aids. If you want more information and you would like to speak to someone directly you can call (833) 320-1912
Hearing Loss Severity: Mild to Moderate
Price Range: $199-$999 (per pair)
Where to Purchase: Online 
Phonak Hearing Aids 
The latest Phonak hearing aids connect to smartphones, TVs and more — providing audio streaming from countless devices. They also make hands-free calls possible. Rechargeable options make using a rechargeable hearing aid even more hassle-free. Phonak offers a wide range of hearing aids for many levels of hearing loss. We discussed the three most common types of hearing aids, but Phonak offers a fourth type, "lyric." Lyric hearing aids are 100% invisible hearing aids that are worn 24/7 and sit deep within the ear.
Hearing Loss Severity: Mild to Severe
Price Range: $1399-$2299 (per ear)
Where to Purchase: Online
Walmart Hearing Aids
Walmart is a well-known retailer that sells many brands and types of hearing aids. They offer a marketplace that allows you to buy Walmart hearing aids from multiple retailers. You can also find hearing aid accessories for sale at Walmart.
Eargo Hearing Aids 
Eargo offers two types of invisible hearing aids, the NEO and MAX. They are rechargeable, invisible and comfortable hearing aids. Eargos amplify speech while reducing background noise, making it easier and more comfortable to hear in noisy settings. With Eargos, you can focus on what matters without distractions.
Hearing Loss Severity: Mild to Moderate
Price Range: $1850-$2350 (per pair)
Where to Purchase: Online or Amazon
Are Costco hearing aids as good as others?
Costco Hearing Aids
Costco hearing aids' center offers discounted prices, premium technology, free hearing tests, follow ups and hearing aid checks and cleanings. They also cover loss and damage of hearing aids for free with no deductible and offer warranty periods. Costco offers a variety of name brand hearing aids including Rexton, ReSound GN, Kirkland Signature, Phonak and Philips. Each of these brands varies in price based on the type of hearing aid selected. Costco hearing aids can range in helping with hearing loss severity from mild to profound hearing loss.
Oticon Hearing Aids 
All of Oticon's hearing solutions are built on BrainHearing™ and have been designed to support your brain's natural process of making sense of sound. They offer a complete range of products to support a variety of hearing needs. Visit a hearing center near you to learn more or order Oticon's hearing aids.
Hearing Loss Severity: Severe to Profound 
Price Range: $1,274 to $3,808 (per ear)
Lively Hearing Aids 
Lively hearing aids offer one type of hearing aid, "The Lively Bundle." These behind the ear hearing aids can be purchased with a rechargeable version or battery operated version. They are nearly invisible and are professionally programmed. When purchasing Lively hearing aids, you will receive three years of follow up care with a Lively audiologist and three years of loss and damage protection.
Hearing Loss Severity: Mild
Price Range: $1850-$2450 (per pair)
How much does a Nano hearing aid cost?
Nano Hearing Aids 
Nano hearing aids are a bit different than the other traditional hearing aids on our list. They are personal sound amplification product (PSAP) that can be purchased over the counter to help amplify sounds making them louder and easier to hear. Similar to the other hearing aids, they offer a range in types of hearing aids including the use of Bluetooth technology, rechargeable, battery operated, and/or entry level aids.
Hearing Loss Severity: Mild
Price Range: $297-$997 (per pair)
What Are the Best Hearing Aids for Seniors?
We hope this post gives you more information about hearing aids and the types of hearing aids that are offered. These are some of the most popular brands that give many options to give everyone a choice for their preference. There are some inexpensive options for those of you who are on a budget and don't forget to check to see if there are any deals or promotions being offered. Many online retailers will have sales around holidays throughout the year.