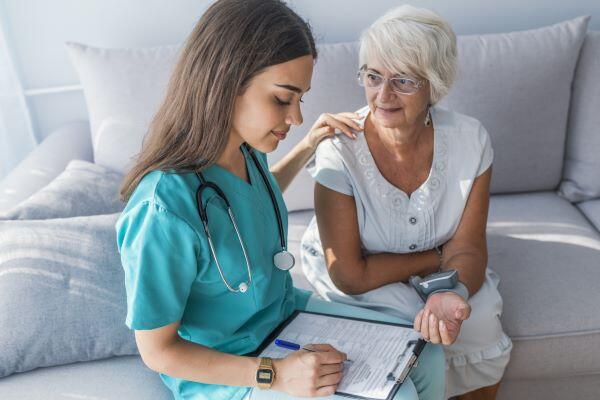 CCRC vs Assisted Living: What Are the Differences?
Friday, April 10, 2020
As we get older, life's daily routine can get harder and harder. Cooking, cleaning, showering, and getting out of bed can difficult, and even dangerous in the right conditions. If you're having trouble living independently, you may want to consider moving to a retirement community. 
Retirement communities come in all shapes and sizes, with different services, amenities, and care options. Two of the main types of retirement communities are assisted living communities and continuing care retirement communities, known as CCRCs. 
In this article, we'll go over the difference between an assisted living community and a CCRC, and help you decide which is right for you and your family. 
What is the Difference Between Assisted Living and Continuing Care?
To understand the differences between these communities, you'll need to understand the basics of each community first. 
Assisted Living 
Assisted living communities are meant for elderly residents who need help in their daily activities. They are still able to live independently but need help with things like cooking, showering, eating, going to the bathroom, or getting out of bed. 
These communities also offer things like transportation services, cleaning, laundry, and basic medical services. These basic medical services include medication management, on-site pharmacy access, and basic first aid.
Continuing Care Retirement Communities
What does continuing care facility mean? 
CCRCs offer a combination of independent living, assisted living and nursing home services. This means that residents at a CCRC can live with any level of care they need. They can live independently and take advantage of the services offered by the continuing care retirement community as they need them. 
CCRCs offer a complete range of long term care on their campuses. Residents can receive help with all aspects of senior living at CCRCs. 
Does Medicare Cover Continuing Care Retirement Communities? 
Because of the costs associated with long-term care, Medicare usually does not cover the cost of living in a continuing care retirement community. It can however, cover services that a CCRC resident might receive such as doctor's visits, nursing care, or hospital stays.
What is a Buy In Retirement Community?
A buy-in retirement community is a community that requires the resident to pay a lump sum also known as an "entrance fee" for admission.
Why do Retirement Communities Charge an Entrance Fee?
Entrance fees at continuing care retirement communities (CCRC) is a sum of money paid at admission to secure your spot in the community. The fee paid at the beginning can help lower fees that you will pay monthly for services such as maintenance, transportation, and cleaning.
Assisted Living VS. CCRC: What's The Difference?
Although these two senior care facilities might seem very similar, they are distinctly different and each offers a different style of living. 
Differences In Services 
One of the main differences between assisted living communities and CCRCs is the difference in the services they offer.
Assisted living communities offer many of the same services as a CCRC, such as help with daily activities like bathing, eating and moving.
But while assisted living communities are limited in the services and care they can provide, CCRCs can provide any level of care and services. They can provide services to more independent residents and residents who require more care and supervision. 
In assisted living communities, if a resident needs medical assistance, they usually have to leave the campus in order to get the care they need. In a CCRC, they offer a more complete range of services to their residents. They still offer help with daily activities, but they can also offer some medical services and care right on campus.
Aging In Place VS. Relocating 
One of the biggest differences between an assisted living community and a CCRC is that CCRCs allow residents to "age in place". 
In assisted living communities, they can provide care and services for residents that can live with a degree of independence. When residents can no longer live independently and need a higher level of care, they must move to a completely new facility. 
They have to leave their beloved community, which means saying goodbye to friends and staff, learning about a new facility, and adjusting to a completely new set of people.
This can be incredibly stressful for elderly residents, causing depression and anxiety. Any stress or mental illness can be very dangerous at an old age. The stress caused by a big move to a new facility can be harmful to a resident's health. 
In a CCRC, residents don't have to move anywhere when their need for care increases. CCRCs can accommodate residents with a wide range of needs, including those who live independently and those who need full-time care. Residents can receive increasing care as they need it without moving to a new facility.
They may be required to move to a different area of the community when their need for care increases. But this is much less stressful than moving to an entirely new area or community. It allows them to remain with the same group of friends and caretakers, which helps them build relationships and live happily.
How Much do Continuing Care Retirement Communities Cost?
CCRC's can have a wide range in cost depending on location, services offered, size of facility, and amenities that are included. Some facilities might have all-inclusive fees, while others offer more of an A la carte style
Deciding Between CCRCs and Assisted Living Communities: Things to Consider
If you're trying to decide between a CCRC and an assisted living community, there are a few factors you should consider first. 
The level of care an elderly person needs varies from person to person, and getting the right level of care is important for elderly residents. When you're figuring out the level of care you need, you should consider the following factors:
Mental Fitness
Mobility
Medical Conditions
Determining your mental capacity, your physical strength, mobility, and analyzing any medical conditions you have will help you decide which place is right for you. 
Live Your Life In Comfort 
Now that you know the difference between a CCRC and an assisted living community, you can start your search for your own retirement community. Make sure that the community you choose has the services you need to live comfortably and can provide the level of care you need. 
If you have any more questions about CCRCs or assisted living communities, please visit our blog. If you're wondering, "What community care retirement communities or assisted living facilities are near me?" check out our search tool.