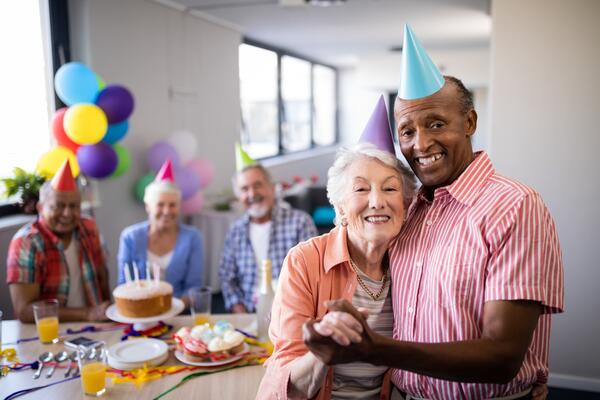 Forever Young: Planning the Perfect Birthday Party for Someone in Assisted Living
Thursday, December 10, 2020
Reaching the ages of 80, 90, or 100 and over are tremendous milestones. Even for people living in assisted living homes.
With advances in medicine and living an active lifestyle, more elderly people can live healthy lives well into their 90s and beyond.
When someone reaches that age, what do you do? Throw them a party, of course!
A birthday party in assisted living shows residents that people do care and value them. For many residents, a party gives them something fun and exciting to look forward to. It's a chance for family and friends to spend time together and celebrate good times.
Here's how to plan the perfect birthday party in assisted living communities.
How do Old Age Homes Celebrate Birthdays?
Before you start planning a resident's birthday party in assisted living, find out if your elderly relative or resident wants a party. Not everyone gets as excited about birthdays as you might.
Throwing a big party for a resident who doesn't want a party leads to unwanted stress, confusion, or frustration. Always check with a resident and their family to see if a birthday party is okay.
If you get the green light to have a party, then start planning! Begin by finding out what kind of party the resident prefers.
Do they want a small intimate gathering of family and friends? Or a large party for friends, family and the assisted living community? When it's someone's special day, do your best to include the people they would love to see.
Be aware of the birthday person's limitations and interests. For example, someone with memory loss may find a large party confusing and overwhelming. Adding toasts and mini speeches may frustrate or confuse a resident with hearing loss.
Being considerate of the birthday person's wants will ensure that the party, no matter the size, will be fun and successful!
How do you Celebrate Your Elderly Birthday?
A trend in many assisted living homes is monthly group birthday parties. A group birthday party in assisted living honors several residents at once. It takes the pressure off of a single resident and allows a resident to opt-out if they wish.
Group birthday parties make residents with few family members or friends feel valued on their special day. They can spend time with other residents and enjoy special birthday treats and gifts. Activities include an exclusive tea or coffee time, cake and sweets, and a cheerful rendition of "Happy Birthday."
An individual birthday party in assisted living is ideal for people turning a significant age, such as 90, 95, or 100. Reaching that age is a milestone and should be celebrated as such.
Residents with large, caring families may prefer an individual birthday party to spend time with their loved ones. Whether you do a group or individual birthday party, check to find out the resident's desires first.
Reserve Space
Many assisted-living facilities have recreational spaces and rooms available for parties, meetings, and more.

If you're planning a birthday party in assisted living for a family member, contact the facility to see what they have available. Larger parties will need extra space for all guests, food, and possible gifts.

A separate space for a party can get the resident out of their home or room and moving about.
Another option is reserving a space outdoors if it's a nice day. If the elderly person isn't able to get outside much, an outdoor party may be a great option. If younger children are joining the party, they'll have space to run around.

Smaller parties or gatherings might not need a reserved space. If this is the case, you can keep the party in the resident's house or room. This is especially important for residents with limited abilities or who become confused.

Wherever you decide to throw the birthday party, it should allow enough room for guests and feel comfortable for the person of honor.
What to Eat
Finding the right food for an elderly birthday party in assisted living can be both fun and stressful. Picking out cakes and treats is fun—the stressful side is selecting the right foods that everyone, including the guest of honor, can eat.
Start by bringing your elderly family member's favorite foods and beverages. Even if they can't have the original food or drink, there are plenty of substitutes to choose from. Sparkling grape juices can be a great substitute for wines if the resident can no longer drink alcoholic beverages.
Have soft foods available for elderly guests who may not be able to chew hard foods. This can include pasta, sauces, and soft fruit salads.
Keep in mind family members or guests who may have gluten, peanut, or other allergies and dietary restrictions. Having a variety of food and snacks will make sure everyone has something to eat.
Birthday Party Ideas
Here's where the fun begins! You can throw a large party with a fabulous 1920s Flapper theme, host a small gathering with a Holiday theme, or anything in between.
For the best success, pick a theme or idea that fits with the guest of honor's age and interests. Think of the years when major life changes happened in the birthday person's life. Work with their favorite holidays or movies.
Keep in mind your budget, the birthday person's likes and dislikes, and being mindful of events happening that day. If you're not a relative, find someone to help with invites. Come up with a plan for a gift or gifts.
Whatever you decide, make it fun. Here are a few more ways to make a birthday party in assisted living fun and memorable.
Make Them Feel Special
The goal of every birthday is to make the birthday person feel special, no matter their age. Depending on the resident's preferences, there are many ways you can make them feel special.
A few simple ways are:
Decorating their room with streamers, balloons, or other birthday decor
Offering a birthday badge for them to wear
Hanging a "Happy Birthday" sign on their door to let others know its someone's birthday
Inviting family members to visit, or offering a video chat option for people who can't attend
Presenting the birthday resident with a gift
Bringing a cake to the dining room and singing "Happy Birthday"
Asking community schools and children to bake treats or make birthday cards for residents
Holidays
Is a birthday happening near a holiday? Does the resident like the holiday? Why not do a holiday-themed birthday party?
Even if the resident's birthday doesn't fall near a certain holiday, you can still do a party theme based on their favorite holiday.
Check with the birthday person to see if a holiday theme sounds fun to them.
Seasons
Seasons are great inspiration for a birthday party in assisted living. Does the resident or your elderly relation have a favorite season, but can't go out and enjoy it like they use to?
Bring that season to them. A winter birthday can include wintery decorations such as snowflakes, snowmen, and snow sports. Add winter-themed foods such as snow shaped cookies and hearty stews.
Celebrate summer birthdays outside, if the birthday person is up for it. You can include tropical themes as well.
Resident's Favorite Themes
Does the birthday person have other favorite themes or ideas? Themes offer fun with props, photos, and birthday games for seniors.
Some senior party themes worth considering are:
Movies
TV shows, especially older TV shows the resident or family member loved in their younger years
A decade theme, like the '40s, '50s, or '60s
Tea party
Hawaiian/tropical
Country and cowboy/cowgirl themes
Traditional birthday party
Mardi Gras theme
Forever young theme party
Music or musical themes
Favorite book or story theme
Anything else you can think of!
As long as you work with a theme you know your family member or resident enjoys, they are sure to enjoy the party. Add props and a photo booth to record memorable moments. The photos also make a great gift for the birthday person.
What Games do Seniors Like to Play? 
Bingo, dominoes, checkers and chess are also favorite games for all ages.
What are Good Memory Games for Seniors?
Try creating your own game show using trivia questions that go over the decades, this will require them to use their memory to come up with the answers.
A Centenarian Birthday Party in Assisted Living
Between the years 2000 and 2014, there was a 44% increase in people living to be 100 years old. More people are living a healthy active life well past their 90th birthday.
Living for a century is a huge event, and a centenarian is well worth a celebration. Depending on the resident's health, throwing a birthday party with friends and family is appropriate.   
However, keep in mind the person's health as you'll want to avoid overstimulation. People with dementia or serious health issues can have a negative reaction to stress or changes in their day.
If the party becomes too much, you can move the resident or elderly family member to a quiet place, such as their bedroom, to relax.
Here are several ideas add to your plans for a centenarian birthday party in assisted living.
Include a photo board or slide show that includes photos from each decade of the elderly person's life
Have a cake
Create a display of 100 cards, balloons, flowers, treats, or cookies
Ask the centenarian for their secret to a long life
Include entertainment such as music and games
Play music from the centenarian's favorite decade(s)
Offer the centenarian's favorite foods and snacks
Create a large card for everyone to sign
Let your local newspaper know of the centenarian by including a brief biography and a photo
Invite friends and family
Ask friends and family to bring a written blurb of their favorite memory of the centenarian
If the elderly resident is religious, have a minister visit
Take photos with friends and family with props or take photos with a polaroid camera
A centenarian birthday party should honor the person turning 100 years old. Including their favorite music, foods, and memories will make the party fun and memorable.
Gift Ideas
What do you get someone as a gift when they turn 80, 90, or 100?
Gifts can be tricky, so it may be worth asking them if there's anything they want instead of making it a surprise. Stick to simple and useful gifts for residents if you're unsure, and be mindful of getting them things like candy that they might not be able to eat.
A few gift ideas for assisted living residents include:
Blankets
Sweaters
Non-slip slippers
An address book containing addresses and phone numbers of friends and family
Wall decor
Plants that are easy to care for
Hand cream
A new or replacement small appliance, like a coffee maker or kettle
Large-print crosswords and puzzles
Supplies for a hobby they're interested in, like art supplies for an artist
Gifting large items or things that require some learning to use are likely to get in the way later. Gifts that are simple and useful will be the best choice. Homemade gifts, like knitted scarves or kids' artwork, are also good options.
How do You Celebrate a Low Budget Birthday?
A birthday party in assisted living is a fun, memorable, and exciting opportunity for relatives and residents who may not see family and friends as often as they used to. The goal of a birthday party is to honor your elderly relative or resident, not to show off your party skills or stress them out. Keep the focus on the guest of honor, family, and friends.
The simpler and truer to the resident's wishes the party is, the more successful it will be.
Have questions or want to learn more about events at assisted living homes and continuing care retirement communities? Let us know. We're happy to help answer all your questions.