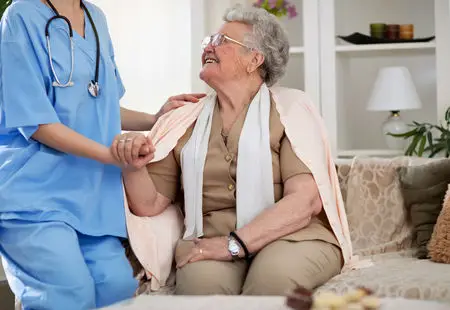 Hospice vs Nursing Home - Picking the Right Type of Care
Sunday, December 20, 2020
▶ When you have a loved one who clearly needs assistive care, you have a plethora of options. How do you know what the right one is?
It's likely that you (as the next of kin) will be responsible for this decision. Picking the right kind of care is a big responsibility. Long term care is incredibly expensive, so choosing the right option is an important event.
You also need to consider the kind of care that's best suited to the situation. When choosing between a hospice vs nursing home, what's the best plan? This can be difficult and heartbreaking, but making the right choice for someone else is your responsibility now.
If you're unsure of how to make this decision on your own, we can't make it for you. We can, however, help you weigh your options.
Keep reading to learn about the differences between hospice care and nursing home care so that you can decide how best to care for your elderly loved one.
How do You Know When it's Time for Hospice?
There will come a time where you're no longer able to provide your loved one with the quality of life that they deserve. Maybe you've been keeping them at home to keep them comfortable, or maybe they've been living alone to maintain their independence.
After a certain point, this won't be sustainable. Maybe your loved one is ill and requires a caretaker. Maybe they're not getting around as well as they used to, and it's becoming obvious that they either require a completely flat home or someone around full-time just in case they suffer a fall.
Perhaps you just know that the time that they have left may be minimal, and you want to keep their quality of life as high as possible for as long as possible.
In some cases, your loved one will tell you when they're in need of more help than you're able to give them. Some people are too prideful, but others are willing to accept help where it's needed. Remember to accept these conversations with grace and respect so that you don't make your loved one feel embarrassed or like a burden.
This is the surest sign, of course. If you're able to make everything clear between the patient and family it can be easier to decide which option is better for them, even if they're embarrassed talking about it.
What is the Difference Between Hospice Care and Nursing Home Care?
There are different levels of continuing care when you're looking at where to place your elderly loved one, but we're going to focus on the two that are most suited to your special person's needs once they know that they're unable to live independently.
When we're moving to nursing homes and hospice care, though, things get a little more restrictive (and for good reason). The people who need this kind of care tend to be quite feeble and need help with basic tasks that leave them unable to fully care for themselves in an independent living environment.
While you could provide this care, anyone with a busy life, job, or children may end up struggling to keep everything together and they may miss something important.
Let's talk about nursing home and hospice care and how they might benefit your loved one.
What does a Nursing Home do?
A nursing home is a care center that provides all necessary around the clock care for the people who live there. Often times, the nursing home is the place that people go after an incident has made it clear that they're unable to maintain the assisted living care that they had been in before.
This can be a big fall, an event of wandering off due to dementia, or an inability to complete a basic but important task like eating, taking medicine, or even taking a bath or completing simple movements like dressing.
This means that they need full-time care. Skilled caregivers are around at all times for nursing homes, and they're also equipped with a staff of nurses and doctors to serve their patients. There is 24-hour care provided to each resident.
Patients will never forget their medications. They don't have to worry about falling and being injured. They won't be at risk.
Benefits of Nursing Home Care
When someone is in a nursing home, they get to see other people. There are still community rooms and even attend community events. They can have visitors and even make friends within the home.
With the full-time doctor and nursing staff, there's less need to worry about your loved one falling or getting hurt accidentally. There will always be someone around to take care of them and you can rest easy knowing that they're protected. These medical professionals can also help with occupational therapy, speech therapy, and physical therapy when it's necessary.
If your loved one has dementia or Alzheimers, they may be prone to wandering. Most nursing homes know how to handle this with ease. They keep doors locked and there are people on guard to make sure that your loved one makes it back to their room safely.
Overall, nursing homes are slightly more independent than hospice care but they don't lose any of the medical attention. Your loved one is safe.
Cons of Nursing Home Care In Comparison to Hospice
If your loved one is quite ill, nursing home care may not be for them. Here are a few reasons why:
Nursing homes are costly
Nursing homes can be depressing
Loss of freedom may be too much for certain people
Location may be far for family
Potential for sub-quality care
They also may provide too much independence for someone who is terminally ill or unable to complete any tasks at all.
What can I Expect from Hospice Care?
Hospice care is generally reserved for those who are terminally ill and showing signs of being unable to care for themselves any longer. This can be indicated by frequent hospital visits, uncontrollable pain, or other types of extreme discomfort. Making the decision to choose hospice care can be heartbreaking, but it may feel better if you know that this is the right choice.
Some people even elect to be in hospice care on their own. Hospice care can be done at home if that's the choice that you want to make, though this can be challenging.
Those who are in hospice may experience frequent (if not constant) discomfort from their condition. They are often very ill and in need of around-the-clock care to meet their physical, mental, and spiritual needs.
Let's talk about the pros and cons of hospice care.
Benefits of Hospice Care
The doctors in charge of hospice care know how to handle delicate situations. They're trained to be gentle and empathetic to their patients and to apply palliative care. Palliative care doesn't only serve those who are dying, but in hospice care that is the general intention.
Palliative care is the relief of pain associated with a terminal condition (or non-terminal if the patient is in pain but unable to relieve treatment at that moment).
If your loved one is in pain, this can be the best option. If they're unable to even recognize their family members, this will keep them safe and happy until the time comes that they're ready to pass.
Again, this can be a heartbreaking decision but it can also be one that drastically improves the quality of life of your loved one.
As we mentioned, this kind of care can be given at home if you choose to have your loved one stay with you. Part-time or full-time nurses can stay with their patient for a fee and ensure that they live without pain.
Cons of Hospice Care
If your loved one is seriously in pain and you know that their condition won't improve, this is the best option. There aren't many cons.
That said, if you're unsure, it can be helpful (and even necessary) to check with a physician first. If there's any chance of your loved one improving over time, this care may not be useful when there would be more effective treatments in a different center.
Typically these patients have already undergone aggressive treatments without success. Hospice care provides comfort.
Is It Time To Make the Choice?
Choosing between hospice vs nursing home care can be impossible. Your loved one can't always tell you what they prefer, and they may also be frightened. You need to be supportive and do your best to choose what's in their best interest.
You don't have to do this alone. Reach out to your support circle and medical professionals to get outside opinions. No one expects you to make such a difficult decision on your own if you're unable.
For more information on your options, or to find care communities for your loved one, visit our site. We want to help.