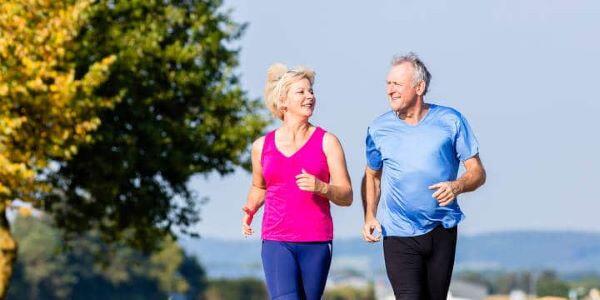 Best Health & Fitness Trackers for Seniors 2021
Monday, March 15, 2021
Living a healthy lifestyle is important at any age, but it becomes even more important as you get older. Health issues become more common with aging, so taking the right steps to keep yourself in good health is a priority. Tracking your healthy lifestyle is a good way to help yourself and your doctor understand what your medical needs are. You may be wondering, "how do I even get started with tracking my health?"
Health and fitness trackers are a simple and accurate way to keep track of steps you take, sleeping patterns, calorie tracking, and heart rate monitoring to name a few. There are many health and fitness trackers for seniors, on the market that range from very simple to more high tech. If you're wondering what you should look for in an activity tracker and some of the best fitness trackers for seniors, keep reading below.
Battery Life
You'll want a device that has a decent battery life so it doesn't require constant charging. This can help seniors who might forget to plug it in often so it doesn't run out of battery. Having a device that can last days or even months can be a major perk when choosing which tracker you want.
Water Resistance
If you want a health fitness tracker that can be worn the majority of the time, choosing one that is water resistant is a must-have. Some trackers are water resistant up to 50 feet, meaning they can be worn in the shower, while washing dishes or even when doing water aerobics in the pool.
Simplistic Design
Fitness trackers come in a variety of designs. Some of them look exactly like a regular wrist watch, others offer a slim design worn on the wrist, and finally some can be clipped on clothing or put in a pocket. You will want to choose one you're comfortable with and will be the most useful to get the most accurate data.
Screen Readability
Screen readability is a major consideration to take into account when purchasing the right tracker. If your eyesight is poor, choosing a health and fitness tracker with a bigger screen and/or bright text will be helpful. There would be no point in tracking your health goals if you can't read the data from all of your hard work.
What is the best Fitbit for a senior citizen? 
Fitbit Charge 4
The Fitbit Charge 4 is a wristband that comes in two sizes, small and large. Fitbit Charge 4 has a battery life up to 7 days. Battery life and charge cycles vary with use, settings, and other factors; actual results will vary. Charge time takes about two hours. This Fitbit is water resistant which makes it perfect for wearing in the shower and participating in low resistance swimming. You can use the touchscreen to check on your stats for your heartrate, GPS location, oxygen levels, sleep schedule, and your overall activity.
The Fitbit Charge 4 syncs wirelessly automatically with tablets or their cellphone app to track all of your data via Bluetooth and WiFi. Personal health reminders can be set such as reminders to stay active, get hydrated, or stick to a sleep schedule. The screen is a 1.4 inch touchscreen.
Price: $149.95 
What is the simplest fitness tracker?
3DTriSport Walking 3D Pedometer 
The 3D TriSport Walking 3D Pedometer is a device that can be clipped onto your clothes, worn around your neck with a detachable lanyard, in your pocket or bag, and/or around your wrist. This simple fitness tracker for seniors has a battery charge that can last up to 12 months. This is a very simple fitness tracker that doesn't require any Bluetooth, connections, smartphone or downloads. The display offers large easy to read numbers with a built in clock. The 3D Trisport Walking 3D Pedometer counts steps (walking or running), distance, calories burned and exercise time. This pedometer has a 30 day memory to store data.
Price: $24.99
Is there a fitness tracker that does not require a smartphone?
Garmin Forerunner 245 Music 
If you're looking for a more high tech fitness tracker the Garmin Forerunner 245 Music is a great option. This smart watch tracks a lot more than just step counting. The battery charge can last up to 7 days, depending on your settings. It is waterproof for swimming and offers specific tracking features related to swimming. It can track your swim distance, pace, stroke count, stroke type, and pool swim workouts. Similar to other fitness trackers, it also is a step counter, GPS distance tracker, heart rate monitor, oxygen level monitor and sleep tracker. Additional special features it offers is music that plays directly out of the watch which can be downloaded to the water (500 song limit) or played through a streaming service such as Spotify (subscription required).
In addition to the fitness tracking, this water has apps that can be downloaded for training, has a calendar, weather, and "find my watch" GPS. Although you can connect a cell phone to this watch to check texts and calls, it is not required to use it. If you want to download your data, you can do that on a tablet or computer.
Price: $299.95
What's a good alternative to Fitbit?
Garmin Vivofit 4 
If you're looking for a 24/7 wearable fitness tracker Garmin Vivofit 4 is the best option for you. It is waterproof and has a battery charge that lasts up to 12 months. The always on color display is bright and easy to see which makes it great for seniors. You can check the weather, set an alarm, and even set a countdown timer to remind you when to take your meal out of the oven. This watch tracks your steps, hydration, sleep, calories burned, and distance traveled. You can participate in step challenges set for yourself and store your data for up to four weeks. 
Price: $74.95
What is the best smartwatch for the elderly?
Apple Watch SE 
The Apple Watch SE is a great smart watch option for seniors because in addition to its fitness tracking, it offers fall detection and SOS emergency calling for your safety. If you already own an Apple phone you can sync it with your phone and it use your watch for all call and text answering. This watch is water resistant and can be used to track swimming. The Apple Watch SE offers workout plans for yoga, running, walking, dance, cycling, and high-intensity training. Distance, pace, calories burned, and heartrate are some of the health stats that can be tracked. Audiobooks, music, and podcasts can also be listened to through the watch while you're doing your exercise. If you know someone else with an Apple Watch you can talk to each other easily using them like walkie-talkies. 
Price: $269.00
Which fitness tracker is right for me?
As you can see there are a variety of fitness trackers out there ranging from high tech to very simple. Choose the one that works best for you and take into consideration what you want to track. If you're just taking walks around the park and want something simple, a pedometer might be right for you. If you're interesting in tracking your swimming routines and having more features a smart watch may be a better choice for you.