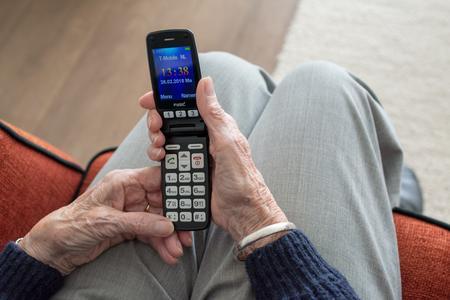 5 Best Basic Cell Phones for Seniors- A Beginners Guide to Basic Cell Phones
Monday, August 9, 2021
Nowadays, it seems like people of all ages are carrying cell phones. In fact, according to Pew Research, 91% of Americans aged 65 or older have a cell phone. And of those people, 39% of those people use a basic phone (a non-smartphone).
Some people may be scratching their heads when they find out that people are still buying basic. But these kinds of basic cell phones are great for seniors, and all people who are looking for a simple call without all the bells and whistles.
And after reading this guide to senior friendly phones, you'll get a sense if buying one would be a good fit for your senior relative. So continue reading and we'll walk you through everything you need to know to finding the best basic cell phone.
What Is a Basic Phone?
If you're over the age of 30, then you're probably well acquainted with basic cell phones. This is essentially the pay-as-you-go mobile phone that was all the rage before smartphones started to take over.
These are basic, pared-down, simple devices. With a senior friendly phone, you should be able to make phone calls, send text messages, and maybe even play a game or two. Some basic phones even come with internet connectivity and many of them come with cameras.
Basic phones are great for seniors who find smartphones to be baffling and overly complicated.
What is the easiest cell phone for seniors?
It's worth knowing that the variety of simple phone options out there is more limited than in the smartphone market. But then again, that's because when you're looking for a senior friendly phone, you're generally not trying to get the one with a bunch of features.
But even though the selections are limited, there are still different types of basic phones that may suit different people better.
Candy Bar Phones
The candy bar phone is the most basic type of non-smart phone out there. It's a simple rectangle that has a small screen and a number keypad. This phone is easy to carry around, small, easy to access, and fairly easy to use.
It's a simple and basic phone. But for older adults, there may be some issues as it could be difficult to read the text on the screen.
Flip Phones
A flip phone gets its name because it sort of folds in half. When you flip it open, the bottom half is a number keypad and the top half is the screen. with a flip phone, you usually get a bigger screen display.
Also, it's harder to accidentally call people when the phone is in your pocket because it will be flipped close.
Keyboard Phones
Lastly, there are basic phones that come with full QWERTY keyboards. These phones tend to come in two versions: a slide or a candy bar version. 
The candy bar keyboard model has a screen with a full keyboard underneath it. With the slide phone, the keyboard slides out from under the screen.
A candy bar keyboard version may be better for older adults because it's more rugged. However, a sliding phone tends to have a bigger display. But that display is also more vulnerable when dropped.
What is the best basic cell phone?
Now that we know all about basic phones, let's take a look at some of the best basic cell phones for seniors. These phones come in a variety of sizes, shapes, and types.
1. Lively Flip 
The new Lively Flip cell phones are here! These simple cell phones are designed for seniors. They are easy to see and hear, full of helpful tools and features, and have special health and safety features available with Lively Health & Safety Packages.
Calling and texting just got easier with the Lively Flip. It features big buttons, a large screen, a simple menu, and an Urgent Response button on the keypad for help in an emergency.
With easy navigation, a powerful speaker, improved 8MP built-in camera, and the ability to use your voice to call and text with Alexa, you'll enjoy using the Lively Flip every day. Plans start as low as $14.99/month with no long-term contracts or cancellation fees. Call or go online to activate your Lively Flip after purchase.
The dedicated Urgent Response button on the keypad gives you access to emergency help, 24/7, plus access to nurses, doctors and caregiver tools.
It has a large, bright screen and big buttons with backlit keypad make dialing effortless, while a list-based menu makes navigation easy.
2. Nokia 3310 
The Nokia 3310 is one of the most beloved and respected candy bar senior friendly phones out there. The screen size is 2.5 inches and displays images in full and vibrant colors. You also get a flashlight and a camera.
Another big benefit is that the number pad on this phone comes with very big buttons. The phone also comes with 16MB of internal storage. But you can slide in an SD card and get up to 32GB of storage if you want.
The phone also comes with a headphone jack, MP3 player, and micro-USB charging port. The user can also use their email on this phone and even log into a few social networking sites too.
It's a phone that would truly make the perfect birthday gift for a parent or older loved one.
3. Binatone Blade (Flip) 
If you want to carry a flip phone around, then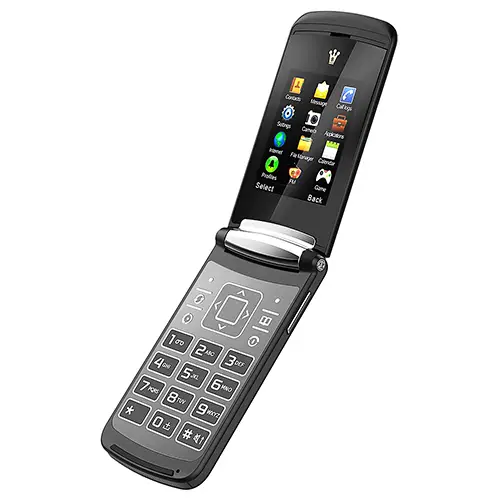 you should definitely consider the Binatone Blade. This phone is basically an updated version of the classic Motorola Razr mobile but it's also fairly affordable.
The 2.5-inch screen comes in full color and it also has a camera. Thanks to the SD card slot, you can get up to 32GB of storage space. And because it's a flip phone, you can rest easy knowing that the phone is durable and that the screen is going to be well protected.
You also get a flashlight, an MP3 player, and a few games too.
On the downside, the buttons are flat and it can sometimes be tough to hit the right one. But all in all, it's an excellent choice for any flip phone fan.
3. Nokia Asha 210 (Keyboard) 
The Nokia Asha 210 has been around for a while now but it's still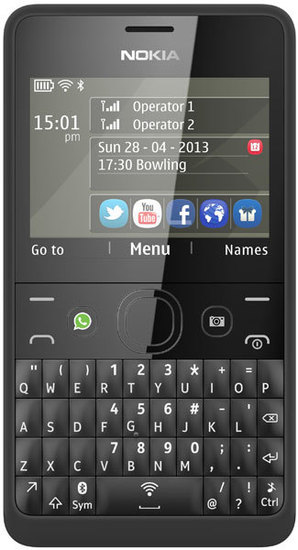 relevant today. There's no better keyboard basic phone out there. It's a great choice for older adults who want to do business from their phone.
You get twelve hours of talk time on a single charge. You also get 1,100 hours of standby time.
It comes with a 2MP camera and also comes with a camera, MP3 player, and a bunch of fun games. Not to mention a complete QWERTY keyboard.
The phone also comes with limited internet access via a Nokia browser and access to email. There aren't any problems with storage since you can get up to 32GB of memory by using an SD card.
What's really cool is that it even comes with Bluetooth connectivity, so you can make hands-free calls in the car.
5. Binatone M250
Is there a cell phone that only calls and texts?
Are you looking for a really basic senior friendly phone? Really basic and simple? If so, then the candy bar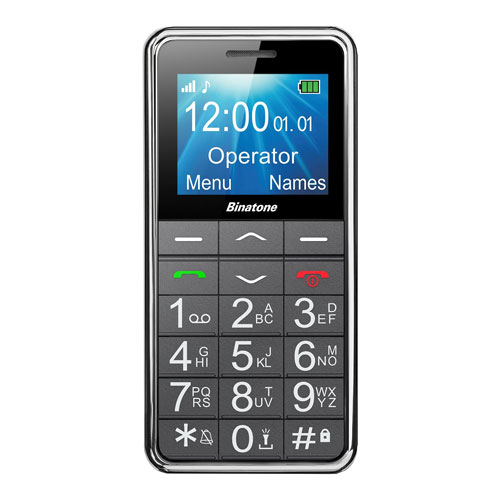 style Binatone M250 is the perfect phone for you. 
This big button cell phone is essentially for people who are simply looking to make phone calls and send text messages. It doesn't get much more minimal than that. It doesn't even come with a camera.
The only extra feature that you get is pretty much just a flashlight. However, it does come with an SOS button. When you press that button, it automatically connects you to emergency services.
It also has a button that can connect the user to their emergency contact. So if you or your elderly relative's safety is the top priority, this phone could make an excellent pick.
Aside from the lack of a camera, it also doesn't come with any kind of MP3 player or games.
What Do I Need to Think About Before Buying?
After you've thought about what type of senior friendly phone you want to buy, there are still some other considerations that you'll want to keep in mind.
First off, you want to think about internet connectivity. Will you want to stay connected to the internet?
Unless you are tech-savvy, it's probably better to skip this feature. And if they really want to be able to get onto the web, maybe you'd rather get a cheap smartphone instead.
There's also durability and ruggedness. We all drop our phones, but cell phones for the elderly may need to be tougher as some of the elderly citizens may be more prone to dropping them. They also might forget that the phone is on a counter and accidentally knock it off.
While senior friendly phones are generally cheaper than smartphones, the cost is going to add up if you're going to keep replacing it.
Basic phones are generally more rugged than smartphones, partly because there's not as much glass on a simple phone. But not all basic phones are created equal when it comes to durability.
Lastly, you want to think about simplicity. How easy should it be to use the phone? A full keyboard slide phone can be useful but also a bit complicated for people who are very inexperienced with phones.
What Features Should I Be Looking For?
Even though senior friendly phones are much more basic than smartphones, they still offer several features and tools that are worth knowing about. One thing that's going to be very important for most seniors is the size of the screen.
A small screen is going to be difficult to read. But, generally speaking, the bigger the screen is, the more fragile the phone is going to be.
Button Size and Style
You also want to consider the size of the buttons. Older adults tend to prefer a big button cell phone because they're easier to see and press. It's also much easier for people who have arthritis and their fingers aren't as dexterous as they used to be.
Some people like to use a full QWERTY keyboard so that they can send texts easier. And if you like to text, this would probably be preferred. But if they're not into texting, then a QWERTY keyboard is just going to make their lives more complicated. Cell phones for seniors should be user-friendly as a priority, and having a tactile keybord is definitely a big plus. However, a QWERTY keyboard has too many keys and as a rule those keys are smaller meaning they're more difficult to press. A touchscreen phone would be much better suited for an elderly person than a QWERTY phone, unless they're already used to using one.
Battery Life - How Important is It for Seniors?
There's also the life of the battery that you want to think about. Generally, everyone wants a long battery life. But seniors especially appreciate a long battery as it can be easy to forget to charge your phone or leave your charger behind when you go out.
Basic phones tend to have pretty long battery lives. But it's worth pointing out that larger screens are going to draw more power and will likely have shorter battery lives.
Phone Durability - Physical Qualities
You're also going to want to consider the durability. Some phones are specifically designed to be rugged. Others, however, do very little to make sure that the phone is drop-resistant.
Phone Memory Storage
There's also internal storage. You can't connect to the cloud with a basic phone. While you don't need a lot of storage, you still need some. Choosing a phone with the right memory capacity depends on its indended use. While you don't need much memory to store a lot of contacts and messages, videos and photos are a different story - they take up much more space!
Storage is important to make sure that you don't lose your pictures, text messages, and contacts. If you take up too much storage, your phone could start to slow down.
Extra Options
Do you find the most basic senior friendly phone a little too dull for your tastes? If so, you should consider getting a phone that comes with a little more. Everyone loves getting a little extra.
The most popular extra option on a non-smart phone is a camera. Most basic phones today already come with a camera, but not all of them.
The camera on a senior friendly phone isn't going to be anything like the one on the latest iPhone. But it should be enough to capture a grandchild's smiling face or a sunset over the retirement community.
Cameras can also be useful in other ways. If you are lost, you can take a photo of the street sign. Or you could take a photo of an error message that's showing up on your computer to ask for assistance.
A lot of basic phones also come with MP3 players built into them. However, this usually isn't a selling point for most seniors however, it is there if you want to experience it.
You should also think about size and weight. A bigger phone could be more inconvenient to carry but those are also more rugged.
Using This Beginner's Guide to Senior Friendly Phones
Hopefully, after reading our beginner's guide to phones for elderly, you now feel that you have a much better understanding of the functions and uses of basic phones.
While not all senior friendly phones are created equal, they all share a common goal. And that's to ensure that your loved one will be able to easily and effectively use modern technology in order to connect with the people whom they care most about.
It's important that you speak with your loved one and see what they want out of their cell phone and what they think they can handle. This will give you a better sense of just how basic the phone should be. If you're interested in smartphones for seniors, check out the 9 best cell phones blog.
Are you looking to improve your quality of life? Visit us today and begin your search for a new home!